Biodiversity Response Planning aims to progressively deliver a coordinated, area-based response to the state-wide targets set out in Biodiversity 2037.
Phase 1 (February to June 2018) will focus on collaborative project planning that will commit $35.6 million for on-ground biodiversity actions and $2.5 million for marine-targeted actions. These projects will be delivered across three years, commencing in the 2018-19 financial year.
Phase 2 will build on this collaborative planning through broader community and stakeholder engagement for each area starting in late 2018.
From 2018, Biodiversity Response Planning will be the primary investment mechanism for on-ground biodiversity; transitioning from current funding streams (e.g. Community and Volunteer Action Grants).
Biodiversity Response Planning areas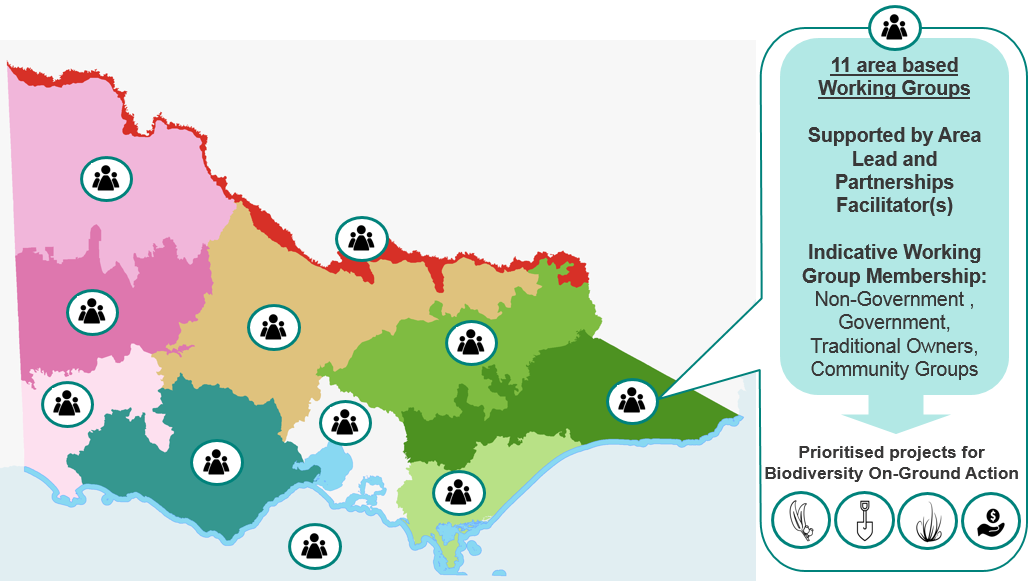 Victoria has been divided into 11 geographical areas for Biodiversity Response Planning. Each area has been determined with reference to biophysical characteristics and organisational arrangements, through a stakeholder co-design process.
Working groups that include government and non-government partners and stakeholders will be established for each area. Each working group will be coordinated and supported by an Area Lead and Partnership Facilitator.
The initial task of each working group is to develop a prioritised list of on-ground projects for each area, up to an indicative allocation of funding, and put these forward to DELWP by the end of May 2018 for potential investment. Successful projects for each area will be announced later in 2018.
Projects will be developed by interested stakeholders, including community members, within priority landscapes or themes determined by working groups. Projects will be assessed on how well they contribute to the targets of Biodiversity 2037 under the goal "Victoria's natural environment is healthy".
Frequently Asked Questions
Further information
To find out more about Biodiversity Response Planning including how to get involved, contact the DELWP Customer Contact Centre on 136 186 between 8:30am and 5:00pm Monday to Friday.