In 2022, DEECA and Melbourne Water commissioned Mosaic Insights to deliver the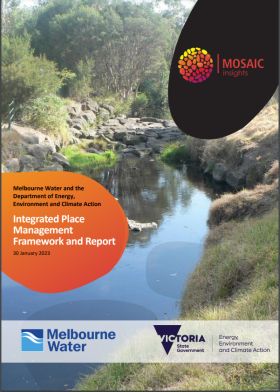 Integrated Place Management Framework and Report (PDF, 1.4 MB) .
The project is a research piece that investigates options for integrated place management that could support the activation and management of water utility land to deliver environmental, economic, social and cultural outcomes.
What is it?
The Integrated Place Management Framework and Report is a guiding framework for determining when why and how to apply integrated place management via a five-step process.
The framework encompasses three collaborative stages: co-governance, co-planning and co-management. It is backed by literature research, case studies and subject matter expert input.
Importantly, the framework supports Melbourne's Open Space for Everyone 2021 strategy, Plan Melbourne 2017-2050, and Melbourne Water's Corporate Plan.
Why do we need integrated place management?
A connected, immersive and shared open space network will increasingly require collaborative land management.
Integrated place management creates shared benefits by:
supporting Traditional Owner self-determination and delivering greater cultural and heritage outcomes
creating enhances and more holistic environmental, economic and cultural outcomes
helping to situate the specific site within the broader context, landscapes and open space networks
Who can use integrated place management?
When there are multiple land managers, stakeholders or land tenures that intersect within a site-specific project, integrated place management is a key tool for collaborative land management.
The framework can help to identify when integrated place management is the appropriate solution, and how to implement it using the three collaborative stages.
Page last updated: 21/06/23