National Volunteer Week 17 - 23 May 2021
To celebrate and promote the work being done by our environmental volunteers during National Volunteer Week, we have compiled a selection of fabulous stories about volunteering groups and projects.
Victoria's environmental volunteers span all ages, cultures, and work across a range of groups and organisations. From gardens to whales, litter collection to tree planting, volunteers are doing great work in and for our environment.
For inspiration we have the wonderful Eulalie Brewster, a 94 year old environmental volunteer. There are more stories available under the video in the drop down boxes below.
Gardens for Wildlife program
Watch how 30 volunteers with the Gardens for Wildlife program are reimagining the city, assessing CBD spaces and reintroducing native plants to attract wildlife.
Update autumn 2021
We know that your environmental volunteering work means a lot to you, as it does to us too, and we welcome the changes to restrictions as we continue to remain vigilant and ensure everyone's safety.
The Victorian Government has announced changed restrictions for Melbourne and regional Victoria. Please visit www.coronavirus.vic.gov.au for more details.
Environmental volunteering can be done within the latest public health measures if the following are observed:
Before undertaking any activity, please contact your program manager or land manager and adhere to any program-specific safety requirements
Ensure any contractor your group engages in has a COVIDSafe plan in place. Request a copy of the plan and keep it on file.
Collect an attendance record on-site with the name and phone numbers of all volunteers
Follow the maximum participation numbers
Adhere to wearing fitted face masks, physical distancing and good hygiene practices as per DHHS guidelines.
We ask that you follow the most up-to-date advice and check Work, study and volunteering before doing your activities.
Your safety and wellbeing are paramount. We are appreciative of your continued patience and your ongoing commitment to environmental volunteering.
Environmental volunteering opportunities map
We're making it easy for people interested in environmental volunteering to get involved through local groups.
It's as simple as:
Zoom into the location you're interested in. Each dot represents a group.
Select the dot to see the following info: Group name, core activities, contact details (Facebook or website). (Multiple groups may be represented by an individual dot. To access all groups use the arrow keys at the top of the pop-up box).
Connect with the group through their website or social media platforms and let them know you're keen to participate.
Is your group missing in action?
To ensure the information about your group is up to date, please contact the environmental volunteering team.
We understand that environmental volunteering occurs across LGA and CMA boundaries and that groups undertake lots of different activities. To make this map simple we have allocated a Primary LGA/CMA and activity category. The legend showing activity types can be accessed on the top right of the map. Groups that go across the State, can be found in the "Getting Involved" links.
Getting involved
Land for Wildlife
Land for Wildlife is a voluntary wildlife conservation program. If you wish to create or protect wildlife habitats on your property, then the Land for Wildlife scheme can offer you advice and assistance no matter whether you manage a farm, a bush block, a council park or school ground.
Landcare
Landcare represents thousands of people across Victoria, working together to increase biodiversity and promote the sustainable management of land.
Coastcare
Coastcare Victoria proudly supports hundreds of community volunteer groups working to protect and enhance Victoria's 2000 kilometres of coastline.
Waterwatch
Waterwatch Victoria is a successful community engagement program connecting local communities with river health and sustainable water issues and management since 1993.
EstuaryWatch
EstuaryWatch is a citizen science program for monitoring estuary health.
Gardens for Wildlife
Gardens for Wildlife Victoria is a network of environmental community groups, shires, councils, and volunteers from across Victoria developing or managing community wildlife gardening programs that are co-designed and led by local government-community partnerships.
Parks Victoria
Victoria's parks provide open space, stunning landscapes, habitats to protect flora and fauna and areas to conserve cultural heritage.
Victoria Environment Friends Network
The Victorian Environment Friends Network exists to help represent the common interests of all Friends groups in Victoria.
SWIFFT – State Wide Integrated Flora and Fauna Teams
SWIFFT connects people with events, information and others interested in threatened species and biodiversity conservation.
Committees of Management of Crown Land Reserves
Approximately 1200 volunteer committees of management work on behalf of the Minister for Environment and Climate Change to manage 1500 Crown land reserves across Victoria.
Conservation Volunteers Australia
Conservation Volunteers makes it easy for people to care for nature by volunteering on one of our many conservation projects across the country. Volunteers come from a wide range of backgrounds and no prior skills or experience are required, and volunteer projects are available to suit your availability and particular interests.
Volunteering Victoria
Volunteering Victoria is the state peak body for volunteering, focusing on advocacy, sector development and the promotion of volunteering.
Australian Citizen Science Association
Australian Citizen Science Association provides information about opportunities to involve public participation and collaboration in scientific research with the aim to increase scientific knowledge. To be involved in citizen science you don't need a science degree. Citizen scientists work with scientists or the scientific framework to achieve scientific goals.
Volunteering Naturally 2020
Environmental volunteering connects community to nature and to each other.
We are pleased to release Volunteering Naturally 2020, our second annual stocktake of environmental volunteers across Victoria.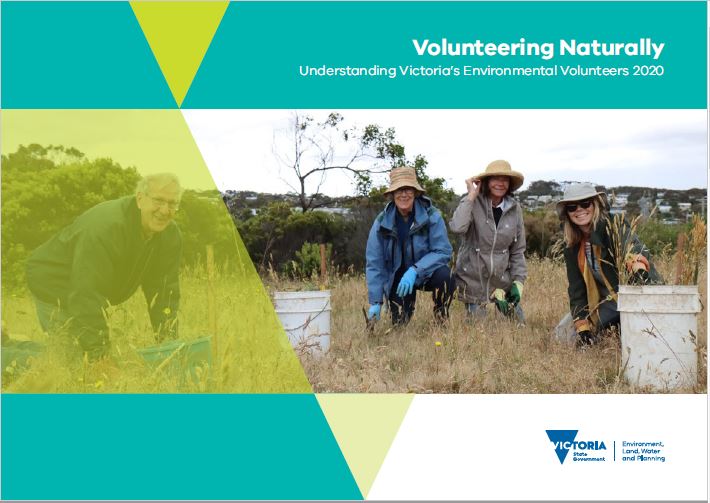 Volunteering Naturally 2019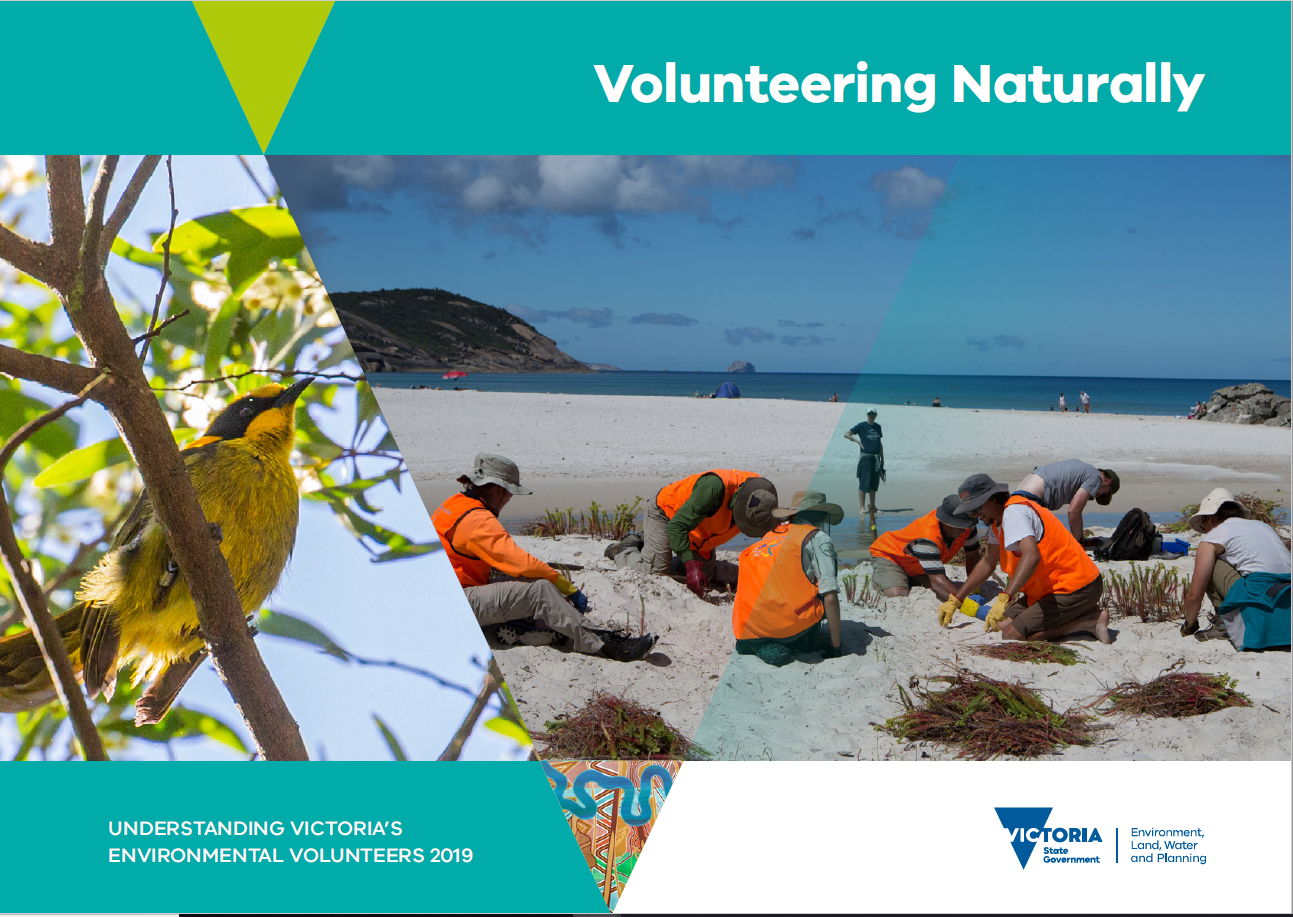 Volunteering Naturally 2019 is a collection and collation of data about active environmental volunteer groups in Victoria. This includes geographic location, and where possible, the number of volunteers and/or volunteer hours contributed captured through financial year reporting data.
Make sure you are counted in Volunteering Naturally 2020 - email us at: environmental.volunteering@delwp.vic.gov.au
Research
We are undertaking various research projects to help understand and support our environmental volunteering community.
Social research - engaging Victorians in environmental volunteering
To support our partners to offer environmental volunteering opportunities that appeal to Victoria's diverse community we must first get to know that community. It is with this view that DELWP undertook a small but important piece of social research on engaging more Victorians in environmental volunteering. The project was conducted in partnership with Newgate Research.
The research sought to provide an updated evidence base for the motivators and barriers to participating in environmental volunteering. It also identified the characteristics of volunteering activities that most appealed to new volunteers and the types of narratives that resonate and are most likely to increase intent to volunteer.
Find out more about this exciting research here:
Engaging with universities
Interested in refreshing your volunteer pool engaging more young people in your group?
Connecting with universities can offer access to a large network of students with a new intake each year. Read on to find out more about the benefits of reaching out and engaging with university students, including where and how to recruit young people.
Engaging with Universities (PDF, 352.5 KB)
Engaging with Universities (accessible version) (DOCX, 1.6 MB)
Recent volunteering news
Please have a look through our updates to find out what's going on in Environmental Volunteering.
If you'd like to subscribe, email us at environmental.volunteering@delwp.vic.gov.au
Aboriginal Cultural Heritage Guide
The Aboriginal Cultural Heritage Guide was launched 25 October 2019 to assist community groups delivering on-ground projects and activities in Victoria to better understand the state's Aboriginal cultural heritage management process.
The guide has been updated in January 2020 and steps out the process for meeting the requirements of the Aboriginal Heritage Act 2006 which helps groups determine whether a Cultural Heritage Permit is required.
The guide also provides the key Aboriginal cultural heritage contacts, including for the 11 Registered Aboriginal Parties (RAPs) in Victoria.
International Volunteer Day
National Volunteer Week 18 - 24 May 2020
Victoria's environmental volunteers span all ages, cultures, and work across a range of groups and organisations. From community nurseries to marine life, frogs to fish ear bones, volunteers are doing great work in and for our environment.
To celebrate and promote the work being done by our environmental volunteers during National Volunteer Week, we have compiled a selection of fabulous stories about volunteering groups and projects. Click on the drop-downs below to read their inspiring stories:
Celebrating our Environmental Volunteers - National Volunteer Week 20 - 26 May 2019
Victoria's environmental volunteers span all ages, cultures, and work across a range of groups and organisations.
During National Volunteer Week 20-26 May 2019, we celebrated Victoria's environmental volunteers; sharing the stories of a few to help encourage others to get involved. Click on the drop-downs below to read their inspiring stories:
Stories from our Environmental Volunteers
Environmental Volunteering Plan
Victoria has a strong history of environmental volunteering, with volunteers contributing enormously to improving our environment, our local communities and our economy.
Many Victorians give their time freely to a wide variety of environmental causes and organisations, including Landcare, Friends, and Coastcare groups. We recognise and value their contributions and collective efforts and want to help volunteers do more for nature when, where, and how its suits them.
More than 100,000 volunteers are currently volunteering in and for the environment. By 2037, we want to help lift this number to five million Victorians acting to protect the natural environment and we've set out our roadmap for achieving this in our recently released Environmental Volunteering Plan.
The Plan is a coordinated and revitalised approach to environmental volunteering that supports and fosters a sustainable, modern, effective and valued environmental volunteering sector in Victoria.
For further information on environmental volunteering please email environmental.volunteering@delwp.vic.gov.au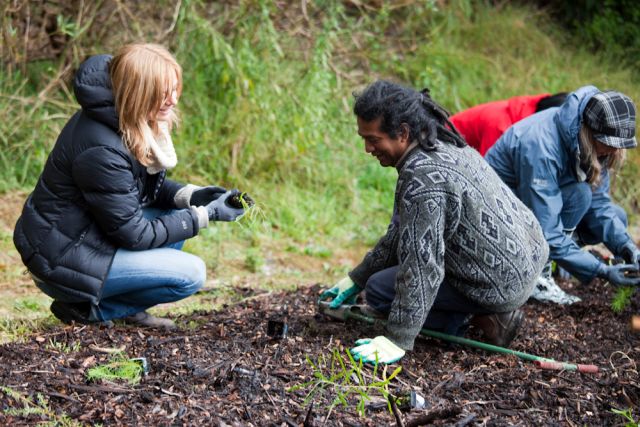 Page last updated: 24/06/21