Weeds in the peri-urban environment
Melbourne's peri-urban areas contain important habitat and biodiversity. These areas are also rapidly transforming from rural to more urban landscapes with habitat becoming fragmented and biodiversity under increasing threat. Land managers face the ongoing challenge of a growing population, competing land use, and the spread of weeds and pests whilst trying to preserve and protect habitat for the plants and animals calling the area home.
Weeds and pests impact the diversity and function of ecosystems, reduce land productivity and water quality, reduce amenity values and tourism opportunities, and can increase fire risk. Effective control of weeds and pests throughout our peri-urban areas is a big challenge, and requires collaboration between many stakeholders and land managers, both public and private.
Bluebell Creeper (Billardiera heterophylla), a commonly found weed species in Melbourne's peri-urban environment. Photo by Bec James
Our program
The Peri-urban Weed Management Partnerships (PWMP) program provides $4 million of funding over four years to protect native plant and animal species in Melbourne's peri-urban areas from high risk weeds. The program is delivered in partnership between state and local governments. Local land managers work with the local community to identify native habitats on public land that have significant environmental and community value.
The program applies a partnership model involving a wide range of stakeholders who can assist in the management of weed threats to public land. State government agencies, local councils and community groups, agree on investment, management actions, roles and responsibilities. Collaborative decision making by land managers and the community is a key element of the program and is essential to coordinate integrated action across targeted public land.
PWMP projects aim to engage the community and increase understanding of and involvement in weed management. Local communities play an important role in PWMP projects and contribute to local leadership, knowledge and expertise. The program aims to support community, residents and agencies to work together to achieve results for the environment.
Project areas
This map shows Melbourne's peri-urban councils and projects funded through the Peri-urban Weed Management Partnerships program.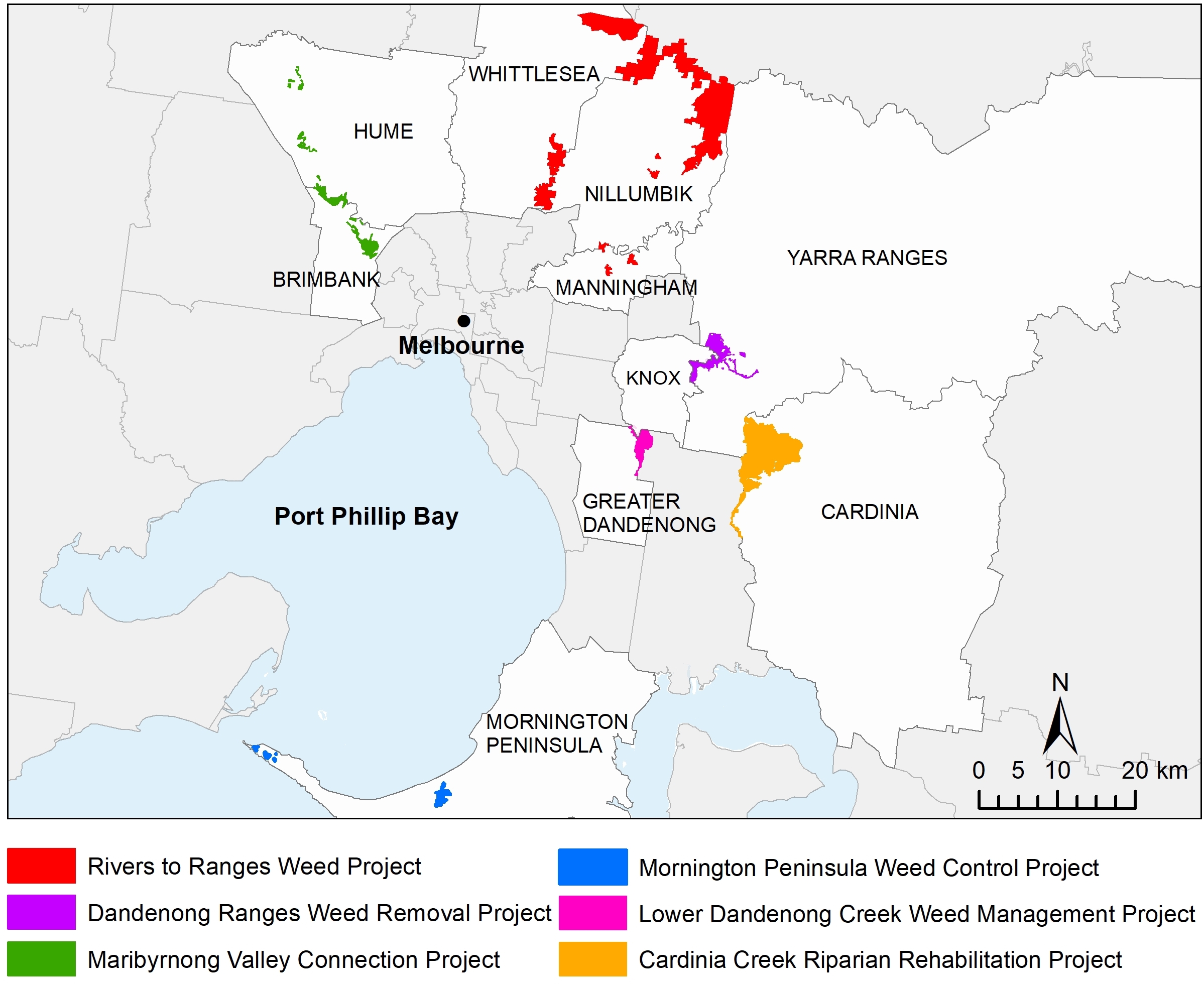 Supporting Biodiversity 2037
The Peri-urban Weed Management Partnership program supports the goals of the Victorian Government's biodiversity plan, Protecting Victoria's Environment – Biodiversity 2037, which encourages all Victorians to value nature and to ensure that Victoria's natural environment is healthy and resilient.
Projects and Lead Councils
The six projects and lead councils are listed below. Click on the council or project to find out more.
| Project | Lead Council |
| --- | --- |
| | |
| Dandenong Ranges Weed Removal Project | |
| Cardinia Creek Riparian Rehabilitation Project | |
| Mornington Peninsula Weed Management Partnership | |
| | |
| | |
How can you help?
Join your local Friends or Landcare group, or explore volunteer opportunities with the Parks Victoria tool, ParkConnect
Don't spread weeds through the bush; practice good vehicle hygiene
Consider selection of garden plants carefully; many of our environmental weeds start out in residential gardens. Consider planting Victorian indigenous species. Practice responsible disposal of weeds.
Report new and unusual plant/weed sightings to Agriculture Victoria
Page last updated: 15/01/19