Under the Victorian Government's $54.5 million investment into the Bushfire Biodiversity Response and Recovery program, $25 million has been allocated to the theme 'Intensified and sustained management of threats', which addresses the threat of invasive species after the 2019-20 bushfires. This is complemented by $6.2 million funding under the Australian Government's Regional fund for wildlife and habitat bushfire recovery.
This threat management program aims to reduce the impact of introduced animals and weeds on the survival and recovery of threatened native plants and animals and important habitat in fire-affected areas of Victoria.
Introduced animal and weed control projects are being delivered in fire-affected and adjacent areas in the North East and East Gippsland, as well as Budj Bim National Park in south-west Victoria. These projects are being delivered between February 2020 and June 2022.
This program is strategic, collaborative and large-scale, and complementary to other invasive species programs across Victoria. It is led by the Department of Environment, Land, Water and Planning (DELWP) and delivered by DELWP, Parks Victoria, Traditional Owners, the East Gippsland Catchment Management Authority and Trust for Nature, in collaboration with others.
Pest predators
Native animals are at higher risk from pest predators (feral cats and foxes) after a bushfire, as pest predators move into recently burned areas to hunt surviving animals and native animals have less vegetation to shelter in. Research has shown that a reduction in understorey vegetation results in a five-fold increase of pest predators in fire-affected areas.
Pest predators are being targeted through ground shooting, aerial shooting and baiting programs across the fire-affected areas.
Introduced herbivores
Introduced large herbivores, such as deer and feral goats, can quickly move into new areas after a fire and seriously damage native vegetation and important habitat areas. Large herbivores compete with native animals for food and habitat, prevent successful regrowth of native plants after fire and spread weeds.
There are several significant vegetation communities within the fire impact areas, including rainforest and alpine peatlands, that are particularly sensitive to fire. As well as being directly impacted by the fires, these vegetation communities are also at high risk from grazing and trampling by introduced large herbivores.
The abundance and distribution of introduced large herbivores are being reduced through aerial shooting, ground shooting, baiting and trapping programs across the fire-affected areas.
Weeds
While fire can be beneficial to the regeneration and germination of native plants, it also increases the risk of weed infestation. Weeds thrive in disturbed landscapes and are very good at moving into burnt or cleared areas.
The risk of weed invasion dramatically increases after fires, leading to new or more severe infestations of weeds and reducing the ability of native plants and habitats to recover.
Weed control after a fire is important to prevent weeds from regrowing and spreading and help native plants and vegetation communities to recover.
Weed control is being delivered across the fire-affected areas, focusing on weeds at the early stage of invasion and high-threat weeds.
Aerial shooting
Aerial shooting began as an emergency response operation to reduce the threat of introduced large herbivores and predators after the 2019-20 bushfires. The emergency response operation was delivered from February to May 2020.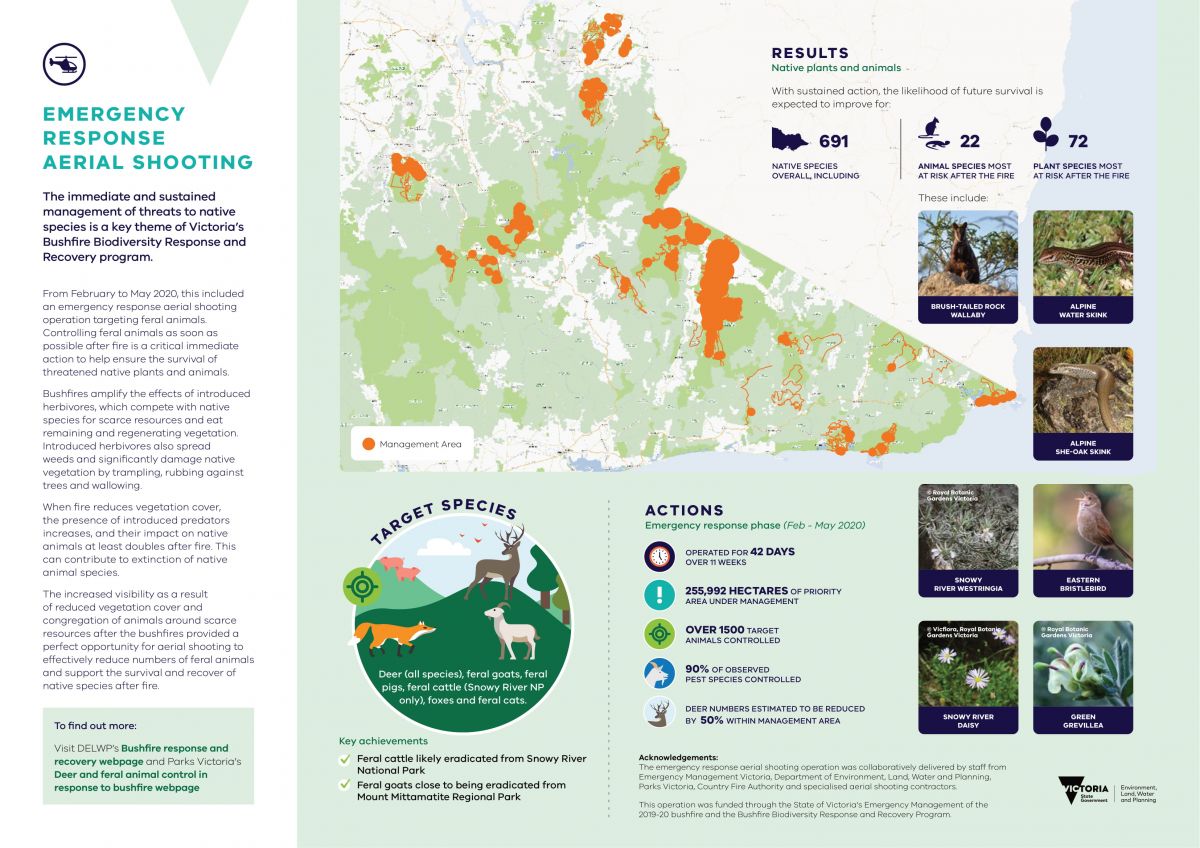 Aerial shooting has continued as part of the BBRR program since June 2020 under the lead of Parks Victoria. Aerial shooting is a highly efficient and effective feral animal control method, particularly post-fire where ground access may be limited. Aerial shooting is being complemented by ground shooting activities where there is now ground access to targeted areas.
For more information on park closures resulting from the aerial shooting operation, please visit Parks Victoria's Deer and feral animal control in response to bushfire webpage.
A report has been produced on the outcomes of the emergency response phase of the aerial shooting operation. This report summarises the operation's delivery structure, results, effectiveness and benefit to biodiversity.
Emergency Response Aerial Shooting Summary Report (PDF version) (PDF, 1.3 MB)
Emergency Response Aerial Shooting Summary Report (Word version) (DOCX, 7.6 MB)
Page last updated: 29/11/21