On 26 July 2018, the feral or wild population of the cat (Felis catus) (feral cat) was declared an established pest animal on specified Crown land in Victoria under the Catchment and Land Protection Act 1994.
The declaration applies to areas of Crown land managed by the Department of Environment, Land, Water and Planning (DELWP), Parks Victoria, Phillip Island Nature Park and the four Alpine Resort Management Boards. It is important that the feral cat declaration only applies to areas of Crown Land where feral cat management is of high priority for the protection of biodiversity and minimises the risk to free-roaming domestic cats.
Feral cat control will be implemented by department and agency staff, and their agents, ensuring efforts are targeted to protect the threatened wildlife most at risk of predation by feral cats.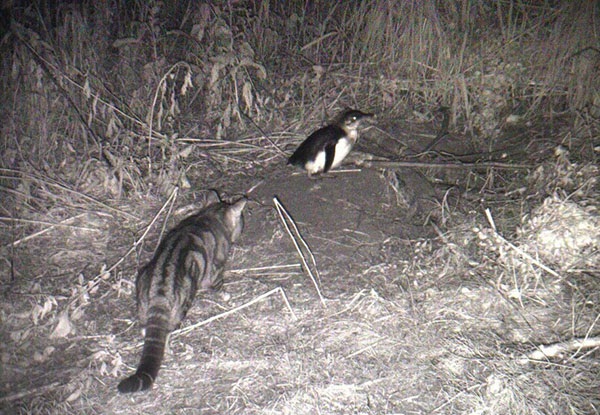 Photo credit: Helen Achurch, supplied by the Centre for Invasive Species Solutions
Feral cats have not been declared an established pest on private land, meaning farmers and other private landholders will not be required to control feral cats. Permission to hunt on Crown land does not extend to feral cats, unless conducted by accredited volunteer shooters engaged to participate in control programs managed by Parks Victoria or DELWP.
Feral cat control will be implemented in accordance with a Victorian Feral Cat Management Code of Practice. The Code will guide the development of best practice humane, efficient and effective feral cat management practices and promote animal welfare and the safety of free-roaming domestic cats.
Feral cats have a major impact on Victoria's biodiversity and are one of the most significant threats to our native wildlife. The declaration is an important milestone in protecting them.
You can find out more in the information sheets below.
Consultation on the declaration
A consultation process was conducted from 30 April 2018 through to 20 May 2018 on the proposed feral cat declaration, to make sure the community's views were heard and understood.
The purpose of the consultation was to understand community and stakeholder views on the proposed feral cat declaration, and what the declaration may mean to individuals or the organisations they represent. Over 1,000 submissions were received, with more than 75% of survey respondents supporting the declaration of feral cats as pests.
The consultation helped shape the feral cat declaration, leading to the inclusion of the Phillip Island Nature Park and Alpine Resorts in the specified areas of Crown land.
You can view the consultation summary below.
A Great Start
Declaring the feral cat as an established pest animal and removing any unnecessary legal barriers to Crown land managers undertaking humane, effective and efficient feral cat control to protect our precious biodiversity is a great start, but is just one piece of the puzzle. To effectively manage the impact of feral cats and give our threatened wildlife the best chance of survival, six key areas for action have been identified:
Leadership
Legislative Reform
Effective Management
Informed Decision-Making
Improved Knowledge
Community Support
Frequently Asked Questions
Page last updated: 30/01/20