Threatened List and Processes List
The Flora and Fauna Guarantee Act 1988 (the FFG Act) provides for the listing of taxa (genera, species, subspecies and varieties), threatened communities of flora and fauna and potentially threatening processes.
There are 3 lists:
The Excluded List contains native flora and fauna taxa which are not to be conserved because they constitute a serious threat to human welfare (Note: the only item on this list is human disease organisms)
The Threatened List contains taxa and communities of native flora and fauna which are threatened
The Processes List contains potentially threatening processes.
Over 2,000 species, communities and threats are currently listed under the Act.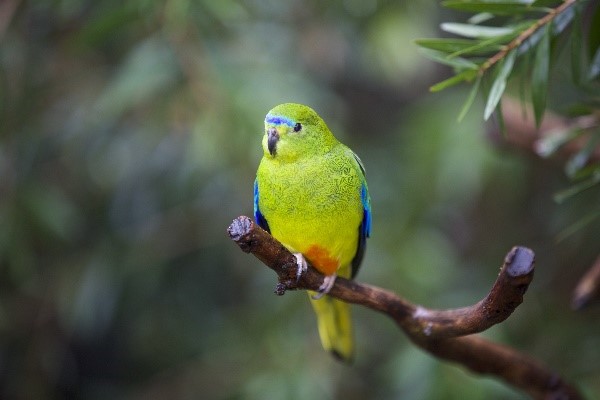 Recent changes to the FFG Act Threatened list
Previously, Victoria had multiple lists of threatened species - those listed under the FFG Act, and non-statutory lists called the Victorian Threatened Species Advisory Lists.
Recent amendments to the FFG Act have removed duplication by establishing a single comprehensive list of threatened flora and fauna species. This will continue to be known as the FFG Act Threatened List. With the new comprehensive list now in effect, the Advisory lists have been revoked.
The Conservation Status Assessment project has overseen the task of ensuring every species of flora and fauna on the FFG Act Threatened List has an assessment that is compliant with the common assessment method. Assessments will be made available to the public in the coming months and can be requested for particular species by emailing csa.project@vic.gov.au.
Threatened Communities and Potentially Threatening Processes have not been reassessed.
For more information about the FFG Act lists, please email threatened.species@delwp.vic.gov.au.
What is the Scientific Advisory Committee?
The SAC is established under section 8 of the Flora and Fauna Guarantee Act 1988 (FFG Act), and its functions are:
(a) to advise the Minister for Environment on the listing of taxa or communities of flora and fauna and potentially threatening processes
(b) to advise the Minister on any other flora and fauna conservation matters
The SAC consists of 7 to 9 scientists from government, education or private sector backgrounds appointed by the Minister for Energy, Environment and Climate Change. The majority are not Victorian Government employees. All members are knowledgeable and experienced in flora or fauna conservation or ecology. The convenor of the SAC is a non-government scientist.
Convenor - Dr Michelle Casanova – Principal, Charophyte Services
Michelle has a PhD in Botany and is Principal at Charophyte Services, a consultancy aimed at providing best practice, scientific research, information and assessment concerning water plants and wetlands. Michelle lives and works on a fine-wool merino and cropping farm near Lake Bolac. Michelle is recognised as an international expert in the algal family Characeae, and maintains her research interest through formal associations with the Royal Botanic Gardens, Melbourne, the New York Botanic Garden and The Natural History Museum, London. Michelle was appointed to the Committee in 2018 and appointed as Convenor in 2020.
Professor David Cantrill – Executive Director Science, Royal Botanic Gardens Victoria
David is a terrestrial botanist whose research interest is in the evolutionary history of the Southern Hemisphere flora. He has extensive field experience in Antarctica, South America, southern Africa, New Zealand and Australia. He has previously been senior research scientist with the British Antarctic Survey (Cambridge, UK) and senior curator in the Department of Palaeobotany Swedish Museum of Natural History (Stockholm, Sweden). He is Chief Botanist and Director of the National Herbarium of Victoria at the Royal Botanic Gardens Victoria and holds an honorary professorship at the University of Melbourne in the School of BioScience. Professor Cantrill is appointed as a member with expertise in the areas of vascular flora or communities of flora in terrestrial environments, and potentially threatening processes. David was appointed to the Committee in 2018.
Dr Matt Dell – independent Senior Consultant Botanist
Matt is an experienced botanist with expertise in the ecology and management of southeast Australia's flora. His experience and research interests include bryophyte ecology, plant physiology and biodiversity policy. Matt has undertaken surveys widely across Victoria and elsewhere, including numerous assessments of impacts to threatened plants and ecological communities. His previous roles have included principal at leading consultancies, science panel member for a water authority, research supervisor, expert witness and technical reviewer for major projects in Victoria. Matt contributes his expertise on non-vascular plants, vascular plants, ecological communities and threatening processes. Matt was appointed to the Committee in 2018.
Dr Tim Jessop – Senior Lecturer, Deakin University
Tim is a senior lecturer within the School of Life and Environmental Sciences at Deakin University. He is an integrative ecologist with 20 years of experience working on threatened vertebrates in marine and terrestrial ecosystems both in Australia and overseas. Tim studies the effects of environmental, ecological and anthropogenic disturbances on animal ecology. His primary research goal is to understand how natural and anthropogenic disturbance processes shape animal population and community dynamics. He is also interested in assessing the effectiveness of environmental management actions such as introduced predator control, protected area design and zonation for improving biodiversity outcomes of native vertebrates. Tim was appointed to the Committee in 2020.
Dr Pia Lentini - Senior Research Fellow, RMIT University
Pia is a Senior Research Fellow in the School of Global, Urban and Social Studies at RMIT University. Pia is a conservation scientist whose research explores questions around applied terrestrial wildlife management, and incorporates elements of urban ecology, biodiversity policy, movement ecology, conservation planning and human-wildlife conflict. Much of Pia's research is carried out in collaboration with industry partners including local, state, and national government agencies and non-government organisations. Pia also sits on the Board of Management for Wildlife Victoria and was formerly a member of the Executive of the Australasian Bat Society. Pia was appointed to the Committee in 2020.
Mr Ian Smales – independent Principal Consultant Zoologist
Ian has worked for more than forty years in vertebrate zoology and natural resource management with the public and private sectors. He is Principal Zoologist with a large environmental consultancy. He has previously been a long-standing member of recovery teams for the Helmeted Honeyeater and the Orange-bellied Parrot. Ian's Masters of Science thesis investigated the demography of the Helmeted Honeyeater, based on his 20-year study of the bird. More recently he was a member of the technical reference group for South-west Victorian Brolga Project. Ian has designed and managed large and long-term investigations including studies of migratory and resident shorebirds in Tasmania and Victoria; responses of birds and bats to wind energy, and of waterbirds to environmental water regimes in the Murray-Darling Basin. Ian has particular interest in the ecology and systematics of reptiles and amphibians and is working with international collaborators on aspects of the evolution of Gondwanan freshwater turtles. Ian was appointed to the Committee in 2020.
Dr Linda Thomson – Honorary Research Fellow, University of Melbourne
Linda held positions at La Trobe University before moving to Zoology at University of Melbourne in 2005, where she is currently an honorary research fellow at the Pest and Environmental Adaptation Research Group (PEARG). She has extensive research experience in biological monitoring, biodiversity assessment, and invertebrate conservation and ecology with particular interest in the role of invertebrates as indicators of environmental sustainability and in the control of pest species in agriculture. Linda is appointed as a member with expertise in the areas of invertebrate fauna in terrestrial environments and potentially threatening processes. Linda was appointed to the Committee in 2016.
Dr Susanna Venn – Senior Lecturer in Environmental Botany, Deakin University
Susanna is a plant ecologist with a wealth of research experience in the processes that shape alpine ecosystems. Her research focusses on how snow influences plant community patterns, (re)assembly and ecological processes. Susanna works at Deakin University as a Senior Lecturer in Environmental Botany and leads the eXtreme Plant Ecology Research Team in the Centre for Integrative Ecology. Susanna was appointed to the Committee in 2018.
Dr Barbara Wilson – Associate Professor, Deakin University
During her career in academia, government and private industry Barbara has developed considerable knowledge and experience in ecological research, environmental management, and government policy. As Associate Professor (Deakin University, Victoria, Murdoch University, Western Australia) she has led highly productive research teams focused on understanding Australian ecosystems. Major research fields include ecology, reproduction of native fauna, effects of fire on native mammals, status of endangered species, impacts of Phytophthora cinnamomi on biodiversity and the sustainability of underground aquifers. Barbara held leadership roles in Government Environment agencies, and has extensive experience contributing to policy development as a member of Federal and State advisory bodies including conservation legislation, forestry, National Parks, fire and land management. Barbara's international appointments include Visiting Fellow, Yale University, USA and Visiting Professor, University of Gottingen, Germany. Barbara was appointed to the Committee in 2020.
For further information on any recommendations of the SAC, please contact the SAC Secretary as follows:
Email:
SAC.secretariat@delwp.vic.gov.au
Post:
Secretary, Scientific Advisory Committee
c/o Environment and Community Programs Branch (Lvl 2)
Biodiversity Division
Environment and Climate Change Group
Department of Environment, Land, Water and Planning
PO Box 500 EAST MELBOURNE VIC 8002
Preliminary recommendations of the SAC open for public comment
Preliminary recommendations inform the public of the SAC's assessment of nominations. There is currently one preliminary recommendation open for public comment until 17 October 2021. See 'Item Supported for the Threatened List' below.
Final recommendations of the SAC
The following recommendation arose from the Committee's meeting in June 2021. Please note: PDF versions provided below are the official signed documents of the SAC.
Notice of Decision
In accordance with section 16G of the Flora and Fauna Guarantee Act 1988, the Minister for Energy, Environment and Climate Change and the Minister for Agriculture have considered the recent recommendations of the Scientific Advisory Committee and have decided to recommend to the Governor in Council the following:
Australian Sea-lion (Neophoca cinerea) be specified in the Threatened List as 'Endangered' in Australia
Invasion of native vegetation habitat by Karamu (Coprosma robusta) (potentially threatening process) not be added to the Threatened List
Notice of Decision - Australian Sea-lion and Karamu (PDF, 150.6 KB)
Notice of Decision - Australian Sea-lion and Karamu (DOCX, 43.9 KB)
Characteristics of Victorian threatened communities
The Scientific Advisory Committee (SAC) has produced a set of descriptions of Victorian threatened communities. The purpose of the descriptions is to help field recognition of the various communities of flora and fauna currently listed as 'threatened' under the FFG Act.
The descriptions are based on final recommendation reports produced by the SAC. They include the location of the community in Victoria and details of the plant and animal species that occur in each community.
Nominating a species, community or threatening process for listing
Members of the public or organisations can make nominations for the SAC to consider for listing. You may also nominate an already listed taxon for reassessment.
When the Scientific Advisory Committee (SAC) makes a recommendation regarding a nomination in accordance with the Flora and Fauna Guarantee Act (the Act), a report is prepared outlining that the nomination should either be supported or not be supported and a summary of the evidence supporting it. These reports form the basis for public submissions, in the case of preliminary recommendations, or for the Minister's decision, in the case of final recommendations.
More information on how to nominate is provided on the Nominating an item page.
FAQs
Page last updated: 16/09/21