Species information
The Australasian Bittern is a large, stocky Heron, with a head and body length of up to about 75 cm with a long, thick neck and a straight, brownish-yellow bill. Its upper surface is mottled brown and its undersurface is buff, with dark brown stripes, except for a pale throat. The bill is brown and the legs are greenish. It is also known as the Australian Bittern or the Brown Bittern. The Australasian Bittern is found in freshwater wetlands in the temperate southeast and southwest of Australia where they specialise in living in dense beds of reeds and rushes, where they are surprisingly difficult to see, as they are particularly well camouflaged. Barmah National Park provides critical habitat for Australasian Bitterns.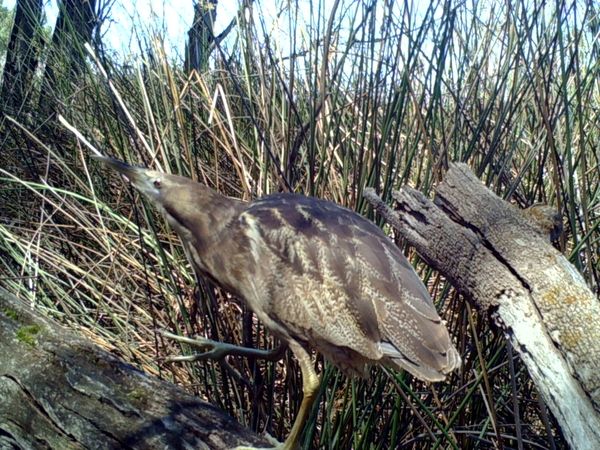 Australasian Bittern - Barmah National Park, Photo: Tim Barlow, Goulburn Broken CMA
Threats
Past and present key threats to the Australasian Bittern are degradation of wetlands which result in the loss of breeding habitat and food supply and foraging habitat. A combination of drought and river regulation reducing natural water flows can have a dramatic impact on wetland health and vegetation which in turn impacts on the Australasian Bittern. Grazing of wetlands by introduced large herbivores has a direct impact on the Australasian Bittern through loss of foraging areas, loss of nesting habitat, reduced abundance of food and increased predation by foxes and pigs.
What's being done?
Efforts to save the species are being supported by a $50,000 grant through the Victorian Government's Biodiversity On-Ground Action Icon Species Grants program, which funds targeted actions designed to protect and conserve Victoria's threatened species.
This funding is going towards:
monitoring of the Australasian Bittern in Barmah National Park through installation of more song meters in key habitats enabling more targeted intensive field surveys
the analysis of data to inform field surveys to increase knowledge of the location and abundance of the Australasian Bittern in Barmah National Park
enabling Traditional Owners to connect with Country and with one of the key species that occur On Country by holding visits to key habitat for the species.
Who's helping?
Conserving Victoria's threatened species requires a collaborative approach. There are a number of organisations and groups working to protect the Australasian Bittern, these include:
Goulburn Broken Catchment Management Authority
New South Wales National Parks and Wildlife Service
Resources
Australasian Bittern on the Species Profile and Threats Database
Australasian Bittern profile - SWIFFT
Page last updated: 19/05/22