Victoria is the most intensively settled and cleared state in Australia and much of it has been altered for farming and other human activities.
This decline in extent and quality of habitat has had major implications for Victoria's plants and animals. Since European settlement, Victoria has lost 18 species of mammal, two birds, one snake, three freshwater fish, six invertebrates and 51 plants that have become extinct. Today, between one quarter and one third of all of Victoria's terrestrial plants, birds, reptiles, amphibians and mammals, along with numerous invertebrates and ecological communities, are considered threatened with extinction.
Ongoing threats, such as changes to fire frequency and intensity, invasive plants and animals, habitat loss and fragmentation and changes to riverflows, wetlands and floodplains, continue to place our threatened communities at risk of extinction or further decline. Victoria has a large and growing number of threatened species and communities. Climate change and population growth are expected to exacerbate existing threats and bring new challenges for Victoria's biodiversity.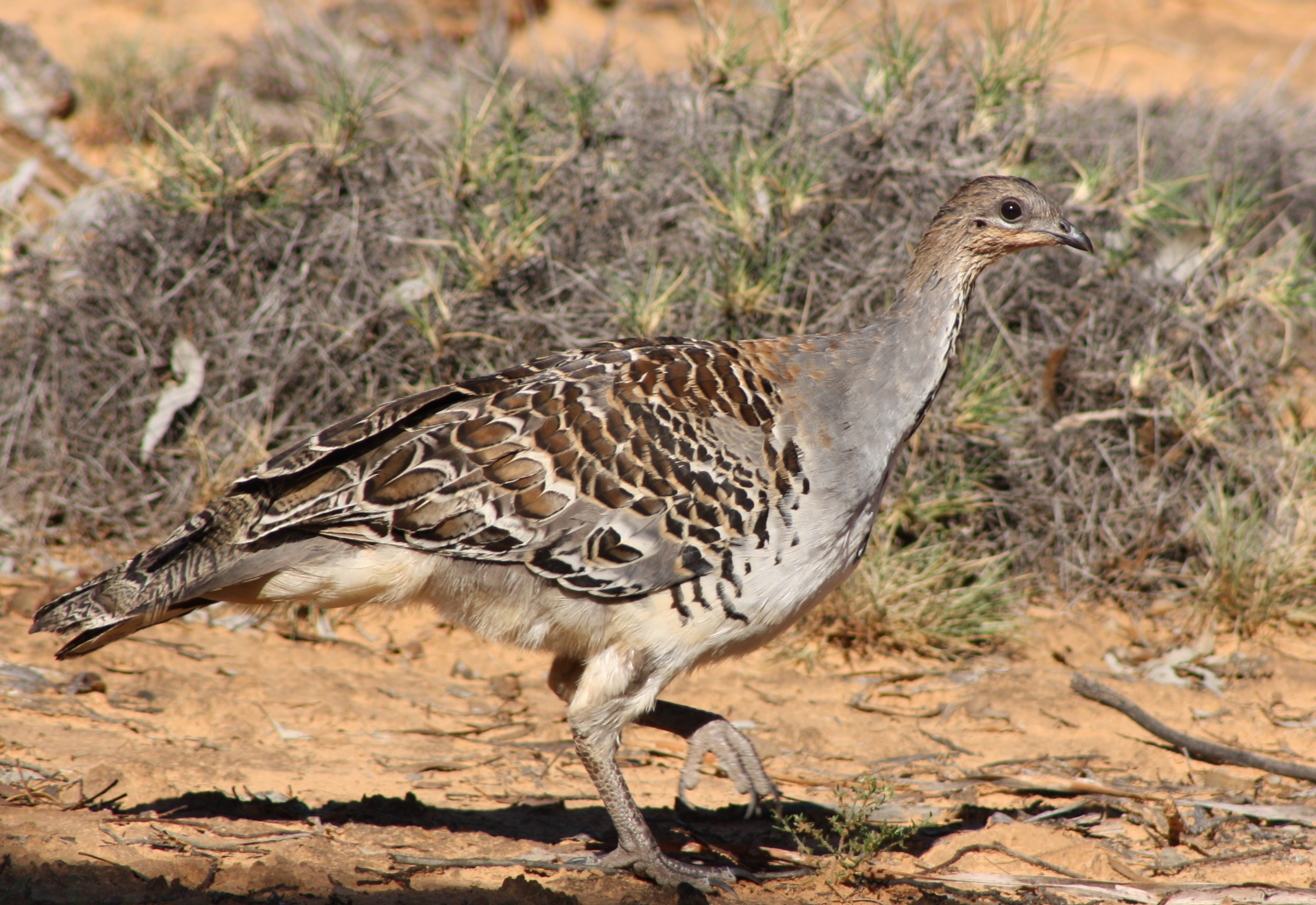 The Victorian Government is committed to investing in the recovery and management of threatened species and communities and all sectors of the community are strongly engaged in programs to improve the outlook for our native plants and animals. We are undertaking works such as revegetation on public and private land from the coasts to the alps, connecting habitat with corridors, surveying and controlling invasive species like Northern Pacific Seastars and foxes, restoring environmental flows and establishing 'insurance populations' of threatened species by preserving plants in seed banks and rearing animals in safety to be released later into the wild (captive breeding).
Victoria has a strong base to build from to conserve our threatened species and communities. The government is committed to strengthening leadership and accountability and improving strategic biodiversity planning. Working in partnership with the community will continue to be an integral part of this journey.
Victoria's Biodiversity Plan 2037
In April 2017, the Victorian Government released Protecting Victoria's Environment - Biodiversity 2037 (Biodiversity Plan). The conservation management approach in the Biodiversity Plan is shifting away from planning for threatened species one at a time. While it will always be necessary to understand the unique needs of species, the Biodiversity Plan supports a shift towards broader scale threat management that benefits multiple species and provides a preventative approach, reducing the risk of species becoming more threatened. Strategic management actions that focus on multiple species can prevent many vulnerable and common species from entering the endangered category, and provide co-benefits to endangered and near threatened species. As a result, these actions can be highly cost effective.
However, some endangered and critically endangered species will not benefit from the wider landscape-scale approach, and will require specialised interventions. Specific threat management to meet the unique needs of individual species or situations will be balanced against what can be achieved for other species.
Figure 1: A conceptual model of the new approach – long term, whole of Victoria, and strategically identifying a cost-effective suite of actions that benefit the most species (Biodiversity Plan 2037).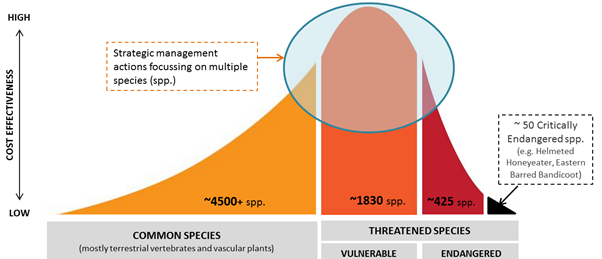 A number of tools are being developed across the department to enable decision makers to implement planning to benefit the maximum number of species:
NaturePrint is a suite of decision-support products and tools designed to help us make choices about what actions to take, and in which places, to protect Victoria's environment and plan for the future.
The Strategic Management Prospects (SMP) is a valuable tool for guiding decisions around threatened species as it helps biodiversity managers to identify and prioritise management options in a transparent, objective and repeatable way.
Cost-effectiveness Framework for Endangered and Critically Endangered Species
Establishing a cost-benefit framework that enables improved decision making and investment in the conservation of endangered and critically endangered species is recognised as a priority task in the Biodiversity Plan.
This project directly responds to that priority through the development of a decision support framework to enable improved planning for the conservation of endangered species through better understanding the cost-effectiveness of appropriate management interventions. The Framework is being developed with a focus on those species which are more likely to require some form of direct intervention, because they will not typically respond well to more typical 'landscape-scale' management. In this way, the Framework will complement the SMP, which provides guidance on the relative benefit of a range of more typical landscape-scale interventions, in terms of multiple species at locations across Victoria.
The Framework will provide a recommended decision flow chart, linked to information products and decision support tools/processes. The Framework will be able to be updated as new information/tools become available and will assist users to make the best use of information and tools at the appropriate stage of thinking, planning and project implementation or review.
Translocation and Gene Mixing Review
One of the anticipated outcomes of the Biodiversity Plan is that all critically endangered and endangered species will have at least one option available for being conserved ex situ or re-established in the wild (where feasible under climate change) should they need it. This project has been established to better inform two direct interventions in particular in the form of translocations and gene mixing as potential management interventions.
This project involves a review of current approaches to the use of translocation and various forms of gene mixing for threatened species conservation. In part, this project is being undertaken with a view of the potential need to use these direct conservation interventions to a greater extent due to the changing climate and challenges that it presents for some endangered species. The project will produce case studies to show case innovative examples of the use of these conservation management measures to improve knowledge of applications and critical decision points. It will also undertake a review of current policies and procedures to examine if changes are required to support improved conservation outcomes into the future.
Page last updated: 27/02/20