A background on Victoria's threatened species
Victoria is the most intensively settled and cleared state in Australia. Much of it has been altered for farming and other human activities.
The decline in the amount and quality of habitat has had major impacts on Victoria's plants and animals. Since European settlement, Victoria has lost 18 species of mammal, 2 birds, 1 snake, 3 freshwater fish, 6 invertebrates and 51 plants. Today, between one quarter and one third of Victoria's terrestrial plants, birds, reptiles, amphibians and mammals, and many invertebrates and ecological communities, are at risk of extinction.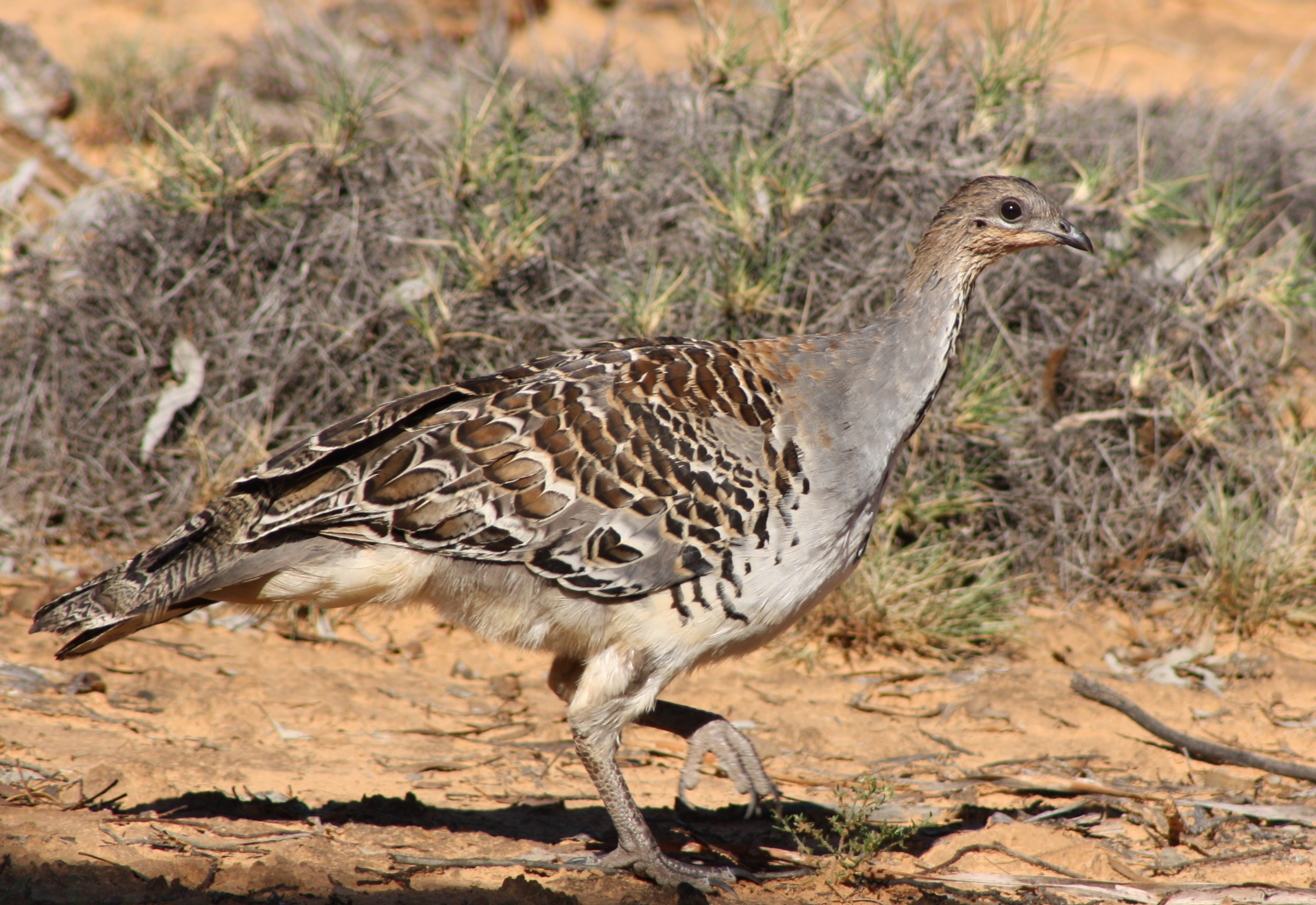 Malleefowl. Photo Credit: Marcia Riederer
Ongoing threats continue to place our ecological communities at risk of further decline or extinction. Some of these threats include:
Changes to fire frequency and intensity
Invasive plants and animals
Habitat loss and fragmentation
Changes to riverflows, wetlands and floodplains
Victoria has a large and growing number of threatened species and communities. Climate change and population growth are expected to exacerbate existing threats and bring new challenges for Victoria's biodiversity.
We are investing in the recovery and management of threatened species and communities. All sectors of the community are engaged in programs to improve the outlook for our native plants and animals. Works being undertaken include:
Revegetation on public and private land from the coasts to the alps
Connecting habitat with corridors
Surveying and controlling invasive species like foxes and Northern Pacific Seastars
Restoring environmental flows
Creating 'insurance populations' of threatened species, preserving plants in seed banks and rearing animals in safety for future release into the wild (captive breeding).
We are working to strengthen leadership and accountability and improve strategic biodiversity planning. Working in partnership with the community will continue to be an integral part of this journey.
Who are our key partners?
Community involvement is an important part of managing the state's environment. We aim to build lasting partnerships to help address the challenges of threatened species conservation.
We collaborate with a broad range of partners and stakeholders across Victoria to develop policy and implement on-ground actions.
Australian Government Department of Climate Change, Energy, the Environment and Water
Statutory authorities, such as Parks Victoria, Melbourne Water, Environment Protection Authority and catchment management authorities
State government agencies, including Department of Transport and Department of Jobs, Precincts and Regions
Local government
Industry groups, such as the Victorian Association of Forest Industries
Recovery teams
Education providers, including Zoos Victoria, Royal Botanic Gardens Victoria and Museums Victoria
Non-government bodies, including Australian Conservation Foundation, Environment Defender's Office, Victorian National Parks Association, Greening Australia and Trust for Nature
Traditional Owners and Aboriginal Victorians
Community groups, including Conservation Volunteers Australia, Victorian Environment Friends Network, Landcare Victoria, Field Naturalists Club of Victoria and Birdlife Australia
Landowners
Scientific community
General community
Page last updated: 28/04/23