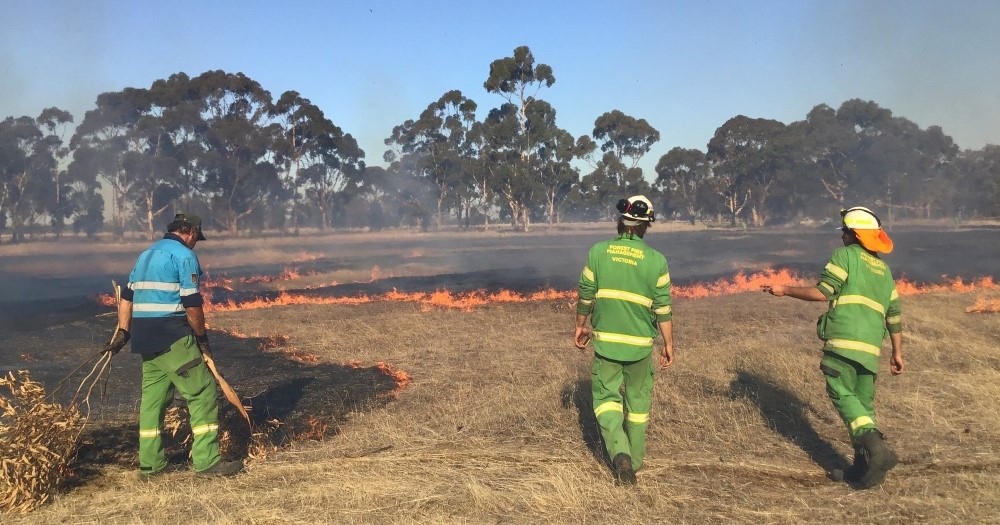 Barengi Gadjin Land Council implementing Cultural fire into the landscape
What is cultural fire?
Cultural fire is fire deliberately put into the landscape authorised and lead by the Traditional Owners of that Country for a variety of purposes, including but not limited to, ceremony, protection of cultural and natural assets, fuel reduction, regeneration and management of food, fibre and medicines, flora regeneration, fauna habitat protection and healing Country's spirit. — Victorian Traditional Owner Cultural Fire Strategy.
More information on Cultural fire and the Victorian Traditional Owner Cultural Fire Strategy can be found on Culture Fire Strategy.
The connection Traditional Owners have to Country and their role in the future of fire and land management in Victoria is recognised and acknowledged by DELWP and its partner agencies. Traditional Owner Cultural Fire Grants (CFG) is a Victorian Government initiative that supports Traditional Owners to lead the practice of cultural burning and their unique pathway for creating healthy Country and communities.
The CFG program will support projects that:
reinvigorate Traditional Owner-led cultural land and fire management practices across the Victorian landscape
implement program components of the Victorian Traditional Owner Cultural Fire Strategy (CFS)
embed two-way learning and partnerships between Traditional Owners and the state's emergency services agencies
restore traditional knowledge and practice, safeguarding this knowledge and practice for future generations
provide employment opportunities within Aboriginal organisations.
The Cultural Fire Grants program is a competitive program to support Traditional Owner organisations in Victoria. In the first funding round of 21/22- 22/23, the Victorian Government is providing up to $6.3 million dollars (GST exclusive) divided between successful applicants, to lead the practice of cultural burning and support their unique pathways for managing Country.
In the first funding round applicants will be able to apply for:
Small grants totalling between $1,000 to $200,000 (perfect for smaller initiatives such as training courses, strategy development)
Large grants of above $200,000 (supporting larger on-ground implementation activities or programs).
| Event | Date |
| --- | --- |
| Applications open | 1 April 2022 |
| Applications close | 13 May 2022 |
| Application eligibility and assessment panel process | 16 May – early June 2022 |
| Successful and unsuccessful applicants notified | Mid June 2022 |
| Activities complete and acquittal reports submitted | 30 Dec 2024 |
The Cultural Fire Grants (CFG) program is a program that seeks to support Victorian Traditional Owners reinvigorate the practice of cultural fire to restore health to country and wellbeing to Victorian Traditional owners and communities. The eligibility criteria are intended to support the program to meet these objectives.
For eligibility to apply for funding, applicants must be a Victorian Traditional Owner Corporation that is either:
an incorporated body registered, under Consumer Affairs Victoria
an incorporated association under the federal Corporations (Aboriginal and Torres Strait Islander) Act 2006
have public liability insurance ($10 million minimum)
professional indemnity insurance ($2 million minimum).
Aboriginal-led organisations may choose to partner with non-Aboriginal organisations where specific content knowledge or other expertise is required. However, the Aboriginal-led organisation and/or community group must be the lead or senior partner throughout the project for partnership-based projects to be considered for funding.
Funding is only available to Incorporated organisations. Non-Incorporated community groups will need to have an auspice arrangement in place to receive the funding.
Traditional Owner Cultural Fire Grants (CFG) is a program that supports Traditional Owners Groups to lead the practice of cultural burning.
Organisations that are not eligible to apply for funding include, but are not limited to:
sole traders
for-profit organisations
non-Aboriginal led organisations and groups
organisations whose primary business is outside of Victoria
individuals who are not office holders or authorised signatories.
Eligible projects will be required to demonstrate how their project supports the Strategic Priorities from the Victorian Traditional Owner Fire Strategy or from a Nation's Country plan or equivalent document which relate to cultural fire. Read the The Victorian Traditional Owner Cultural Fire Strategy
Application and assessment process
The application process is as follows:
Carefully read the Application Guidelines to ensure your Organisation meet the eligibility criteria. All applications are submitted online using the Grants Online portal.
Applicants are encouraged to contact your DELWP regional Deputy Chief Fire Officer to express your interest and discuss implementation of your project proposal. This includes discussing any requirements for Forest Fire Management Victoria resources and availability to support the cultural burns activities and operating in accordance with current Victorian legislation.
Applications must be completed using the online form through GEMS, with all required documentation and submitted no later than 13 May 2022, 5:00 pm.
If there are inconsistencies in the information provided on the application, the CFG Project Team may contact the applicant to clarify. The applicant will not be provided with an opportunity to improve or enhance their application. Applications that do not meet the eligibility criteria will not proceed to the assessment stage.
Applicants that are not successful are encouraged to seek feedback on their application and apply in future funding rounds.
Each assessment criteria question has a percentage weighting of the total assessment. Assessment criteria with a higher value will be considered more strongly than those with a lower value. Applicants must address all the Assessment Criteria and submit their applications using the Online Application Form.
Assessment criterion 1: Enabling Traditional Owner Rights on Country (Value 30%)
Applicants must demonstrate how the project will align with program objectives or actions of the Victorian Traditional Owner Cultural Fire Strategy or an existing Country plan (or equivalent document)
Describe what project your Organisation intends to deliver and how it supports Strategic Priorities from either the Victorian Traditional Owner Cultural Fire Strategy or an existing Country plan.
Complete the Program Logic table for this project.
Assessment criterion 2: Caring for Country and Community (Value 25%)
Applicants must demonstrate how the project will:
support your Organisation and your Traditional Owner community to build their capability and skills to care for Country
heal or improve the overall health of Country
provide any other community benefits – social, cultural, economic, health or well-being.
Assessment criterion 3: Capacity of project manager to deliver and evaluate the project (Value 25%)
Applicants must demonstrate how the project will be implemented including any key activities, timelines, and strategies for evaluating success of the project.
Complete details of the project plan.
Demonstrate what measures will be used to measure the success of the project.
Discuss approach for engaging community participation and key stakeholders including evidence of any letters of support and any agreements/memorandum of understanding (MOUs) with the land manager where applicable.
Assessment criterion 4: Value for money (Value 20%)
All applicants must demonstrate the project represents good value for money with realistic costs and the budget elements are well justified and transparent.
List estimated expenditure for this project up until December 2024.
Outline the legacy of this project, and how the project outcomes can be maintained, expanded or continued in the future.
All applications will be assessed in the following way:
all applications will be assessed against the assessment criteria in the guidelines and application form through a two-stage assessment process
the assessment panel will include Aboriginal representatives and DELWP representatives
please note funding is limited. The awarding of grants is a merit-based process. This means that not all eligible submissions will receive funding in this round if the funding pool has already been allocated to submissions that receive a higher ranking
a minimum of $500,000 will be quarantined for small grants. If applications for smaller funding grants are undersubscribed, this will be repurposed for large grants
if the CFGs is oversubscribed, the CFG assessment panel may negotiate project scope and terms to assist with the final distribution of funds
after assessment, DELWP will recommend projects to the Minister Energy, Environment and Climate Change for final approval.
At the completion of the assessment process, all successful and unsuccessful applicants will be advised of the outcome in writing and given the opportunity to obtain feedback about their submission.
Before completing an Online Application Form, you should make yourself familiar with Cultural Fire Grants (CFG) application guidelines and any supporting material.
Cultural Fire Grant application guidelines (PDF, 642.9 KB)
Cultural Fire Grant application guidelines (DOCX, 1.9 MB)
Applications must be completed using the online form with all required documentation and submitted no later than 13 May 2022, 5:00 pm.
Note: No hard copy applications will be accepted. Late and incomplete applications will not be considered.
To access existing drafts or submitted applications, go to https://delwp1.force.com/
What supporting documents and information are required with an application?
Applicants may be required to provide the following information with your application:
evidence of your status as an incorporated legal Aboriginal entity (Cth) or (Vic)
authorised auspice information (if applicable)
Australian Business Number (ABN)
evidence of public liability insurance
signature from authorised representative
letter of land manager support or evidence of MOU.
Frequently asked questions