The Victorian Government has delivered on its commitment to develop Victoria's biodiversity plan, Protecting Victoria's Environment – Biodiversity 2037. Coupled with reviews of the Flora and Fauna Guarantee Act 1988 (FFG Act) and native vegetation clearing regulations, the Plan will ensure that Victoria has a modern and effective approach to protecting and managing Victoria's biodiversity.
Turning the plan into action
An Implementation Plan to accompany Protecting Victoria's Environment – Biodiversity 2037 is in development, due for release in 2017.
Supporting technical supplement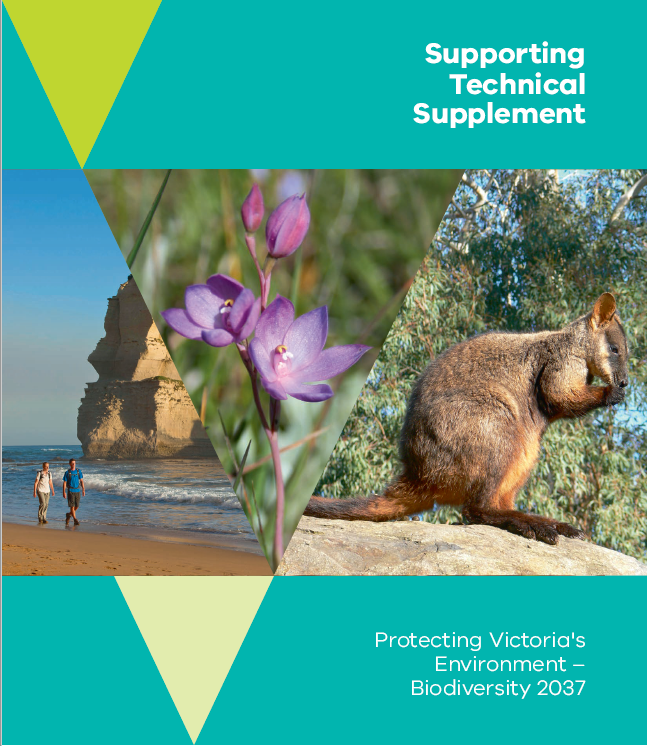 This document provides sources, references and further reading for facts stated in each chapter of Biodiversity 2037, and is current as of May 2017.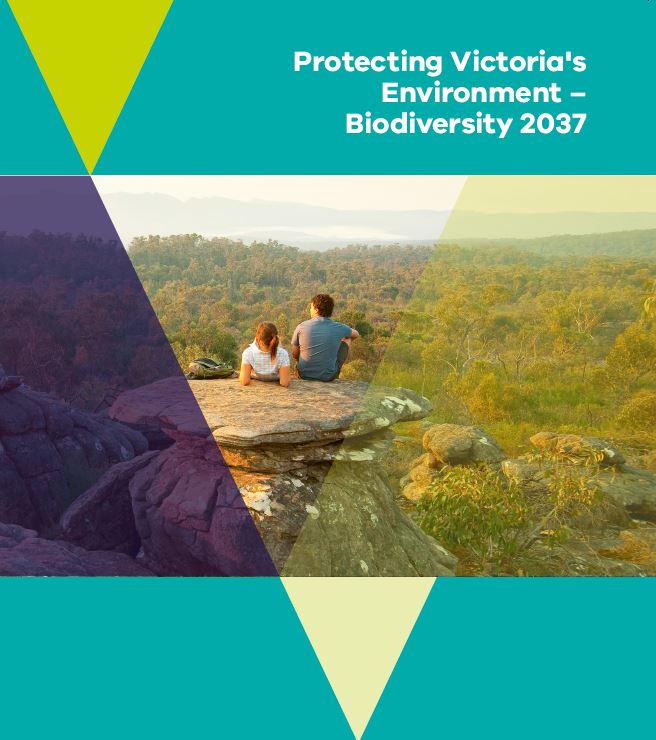 Chapter overviews
Case study 1: Gundtij Mara basket weaving – reconnecting all Victorians to Country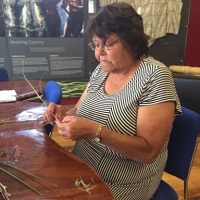 Aunty Eileen Alberts pulls off the seeds from the freshly pulled Poong'ort sedge (Carex tereticaulis) and lets it fall back into the soil to propagate. With no native animals attracted to the seeds, it grows in wild abundance across Gunditjmara Country, which stretches from Portland in far south west Victoria to past the Eumeralla River and up towards the Grampians in the north.
The sedges provide a bounty for traditional basket weaving, a cultural practice that is carried on by Gunditjmara women who are now sharing their knowledge with the broader community.
Elder Eileen Alberts believes basket weaving can be a catalyst for reconciliation. "We have groups of up to fifteen women here for a few hours," she says, "and often the classes go on for a few hours past the finish time, because we are all talking so much, sharing stories and enjoying each other's company, and the friendships continue outside the classes."
Yet while the sedges are abundant, the cultural knowledge about basket weaving was very nearly lost, and with it the clear benefits of well-being provided by cultural pride and connection to tradition and community. When the Gunditmara were subject to the civilising mission at Lake Condah and forbidden from practicing their culture by the Mission Managers, the women stopped passing down the tradition for fear of having their children taken away. It was only the tenacity of Aunty Connie Hart who was raised on the mission, 'peeking around the corners' and secretly watching the female elders, that kept this knowledge alive. However it wasn't until many years later when Connie was 67 that Eileen managed to convinced her to pass her knowledge on to others. "Even then she would only do it with the blinds pulled down and was convinced that our children would be taken away," recalls Eileen. "It took three months for her to realise times had changed."
Nowadays, woven baskets are in demand from people who commission one-off pieces for museums and private collections, supplementing the demand from tourists who disembark from cruise ships in Portland and schedule a stop at Windamara Aboriginal Co-operative to buy smaller items. But Aunty Eileen still has time to weave and mend the traditional eel baskets – nets of three or four metres long – that are used by the rangers today to capture eels at strategic trapping points along the waterways of Budj Bim.
With the revival of the cultural tradition secured, the landscape needs to be actively managed to ensure the survival of the Poong'ort. Aunty Eileen asks the rangers to undertake mosaic burns across the Indigenous Protected Areas before winter to ensure the regrowth for next season. Yet in many other areas the sedge remains under threat from cattle, who eat the entire plant and prevent its natural reproduction.
Case study 2: Friends of Fabbro Fields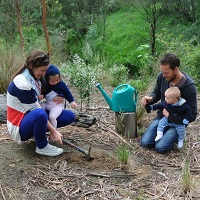 Our initial motivation for convening a 'Friends of' group was to get involved in the local community and do our bit for the environment. When we discovered a new environmental reserve was planned for our local area, we knew the time was upon us and we were excited to get involved. Commencing work in 2012, the Friends of Fabbro Fields started with the humble (yet considerable) task of removing rubbish from the five hectare parcel of land. Now, having removed countless bags of weeds and installed thousands of local native plants, we've made immense improvements to ecological values throughout the reserve.
Dozens of passionate people have attended our working bees and we've made lasting connections with like-minded people in our neighbourhood. With assistance from Nillumbik Shire Council, grant funding from DELWP and Melbourne Water, and hundreds of volunteer hours, we are making great progress with our restoration efforts.
We have enhanced vegetation values on the reserve and have improved connectivity of habitat along the Diamond Creek corridor. In so doing, we hope the aesthetic improvement to the site will inspire others to admire local plants and actively engage in environmental volunteering.
With continued regard for state priorities and guidance from the local council, we hope to restore the best example of riparian forest on the Diamond Creek and foster community admiration for our local environment.
Development of the Plan
Drafting phase
Work on drafting the Biodiversity Plan began in 2015. Protecting Victoria's Environment – Biodiversity 2036 was developed in collaboration with key stakeholders through three main reference groups, and various other collaborative processes.
Reference groups
The reference groups were:
Stakeholder Reference Group, comprising representatives from:
Victorian National Parks Association; Environment Victoria; Environmental Justice Australia; Federation of Victorian Traditional Owner Corporations; Bush Heritage Australia; BirdLife Australia; Victorian Farmers Federation' Municipal Association of Victoria; Urban Development Institute of Australia (Victoria); City of Greater Geelong; Corangamite Shire Council; Nillumbik Shire Council; National Australia Bank; Environmental Farmers Network; Science representation (LaTrobe University); The Nature Conservancy; Victorian Landcare Council; Farm, Tree and Landcare Association.
Portfolio Reference Group, comprising representatives from the following government agencies:
Catchment Management Authorities ; Trust for Nature; Melbourne Water; Victorian Coastal Council; Museum Victoria; Royal Botanic Gardens; Zoos Victoria; DELWP.
Science Reference Group, comprising scientists from university, government and non-government organisations:
La Trobe University; Trust for Nature; Bush Heritage Australia; University of Melbourne; RMIT; Department of Economic Development, Jobs, Transport and Resources; Griffith University; Deakin University.
These groups met individually or jointly twelve times between June 2015 and November 2016, to provide input and direction into the development and finalisation of the draft plan.
Public consultation
The draft biodiversity plan, Protecting Victoria's Environment – Biodiversity 2036, was made available for public consultation for eight weeks, from 17 March 2016 to 15 May 2016.
During this time Victorians were invited to attend community information sessions held across the state to learn more about the draft plan.
250 submissions were provided on the draft plan by individuals and organisations.
Finalisation
Public submissions on the draft Plan were analysed following the close of public consultation. Although most submissions were positive, many suggestions were made to improve the Plan, including the need for statewide targets. The Plan was updated and re-written during the latter half of 2016 to reflect the public feedback received. This included the development of statewide targets that were considered by the Plan's reference groups and included in the final plan.