Species information
The Southern Purple-spotted Gudgeon is an attractive purplish-brown to yellowish-brown small fish; that has a rounded head and a small mouth. The back can be iridescent with darker blotches of blue towards the slightly rounded tail. Adults can grow to 120 mm (maximum size is about 152 mm). It lives in rivers, creeks, billabongs and lakes, and is usually found in quiet or slow flowing sections over rocks or among dense aquatic vegetation.
The species occurs in coastal streams of northern NSW and Queensland as well as the Murray-Darling Basin. The Murray-Darling population is one of three separate genetic lineages and has undergone significant decline. The species was thought to be extinct in Victoria until 2019, when it was re-discovered in the Reedy lakes system near Kerang.
Threats
Their distribution has been greatly reduced by river regulation, invasive species and habitat loss, such that they were thought to be extinct in Victoria. It is believed that interaction with introduced fish such as Redfin Perch and Eastern Gambusia and river regulation including the loss of permanent floodplain wetlands are major causes of the species decline.
What's being done?
Efforts to save the species are being supported by a $59,670.00 grant through the Victorian Government's Biodiversity On-Ground Action Icon Species Grants program, which funds targeted actions designed to protect and conserve Victoria's threatened species.
This funding is going towards:
A captive breeding program and establishing 'back up' populations in the landscape at high quality habitat sites with a permanent water supply.
Who's helping?
Conserving Victoria's threatened species requires a collaborative approach. There are a number of organisations and groups working to protect the Southern Purple-spotted Gudgeon, these include:
North Central Catchment Management Authority
Arthur Rylah Institute (DELWP)
Austral Research and Consulting
Australia New Guinea Fishes Association
Native Fish Australia
City of Greater Bendigo Council
Nature-Glenelg Trust
Middle Creek Farm Aquaculture
Resources
North Central Waterwatch Fish Field Guide. See: www.nccma.vic.gov.au
Lintermans, M. 2007, Fishes of the Murray-Darling Basin: An introductory guide. See https://www.mdba.gov.au/sites/default/files/archived/mdbc-NFS-reports/2203_factsheet_native_southern_purple-spotted_gudgeon.pdf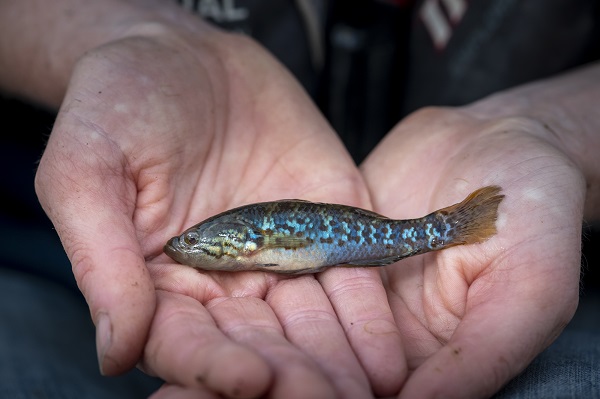 Photo: Doug Gimesy
Page last updated: 14/07/21