Guide to deer control in peri-urban areas
Effective control methods are limited for deer.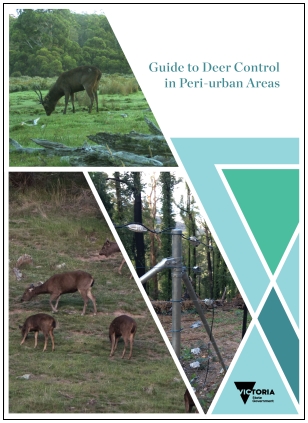 It is essential to use best-practice methods. These include shooting, fencing and guards, traps and using dogs to flush deer into areas where other techniques may be used.
While deer control is possible in peri-urban environments, not all tools are effective, practical, or available.
The high population density in peri-urban areas and small property sizes limit the extent to which shooting can be applied, either from the air or on the ground using professional or recreational hunters.
Other considerations include the need to notify and engage a larger number of stakeholders, the need to effectively assess each individual situation and the circumstances surrounding each problem.
A Standard Operating Procedure (SOP) is being developed for shooting. Tranquiliser guns, followed by lethal injection, are sometimes used to control deer by authorised people such as veterinary practitioners, particularly in built-up areas.
Non-lethal chemical deterrents have been used to deter deer, but most are considered useful only for short periods (Bennett, 2020). Similarly, some hunters like to use free-feeding and attractants to lure deer to an area that is suitable for shooting.
Deer are wary and may become more difficult to manage when subjected to ineffective control. The choice of control methods is influenced by concerns for animal welfare, non-target impacts, public safety, occupational health and safety and restrictions (legislative and practical) on applying some techniques such as the use of firearms on small properties.
Deer control requires a level of expertise and should be undertaken by experienced persons.
Given the size of deer and their unpredictability when fleeing, personal injury is possible. Caution should be exercised when deer are cornered within a site or structure. Call Triple Zero (000) where there is an immediate risk to public safety and/or animal welfare.
New tools and techniques
New deer control tools and techniques are becoming more available. Some of these are listed in Table 2. While the application of each may need to be selected for suitability, they should be considered as part of the overall toolkit available to land managers.
Table 2: New tools and techniques for deer control
| Tools/techniques | Description |
| --- | --- |
| Aggregator – a feeding station | Devices that allow deer to feed and prevent other species from entering feed hoppers. Can be used with panel traps. |
| Aerial shooting | While not new, aerial shooting is being expanded into additional areas in Victoria. It is proving effective in sites that are difficult to access, remote and open to visual detection of deer. Only possible in less populated sites in Victoria. |
| Trapping enclosures | A variety of traps are used to trap single or multiple deer such as Fallow deer, which are then shot in the trap. May be restricted in some areas because of the requirement for Public Place Permit. The use of these devices may require an Authority to Control Wildlife Permit. |
| Aerial surveys – drones, thermal tools | Surveys using thermal imaging can assist project development and establish deer numbers at a site. This technique can help direct shooters to deer sites, particularly the use of drones. |
| Reflective devices that help keep deer away from roads when car headlights shine on their surfaces | This device is being trialled in two sites in northeast Victoria and has been used in other states and overseas. |
| Fox lights beams | Can be used to deter animals near assets, tricks animals into thinking someone is walking around with a torch, emits a flashing light. Not effective in the long term. |
Deer control and exclusion methods
Table 3: Control methods for deer control in Victoria
Control method

Advantages

Disadvantages

Applicable to peri-urban

Primary

Shooting – Ground

Ensure that the area is a permitted place to enable shooting. Check at the Game Management Authority website.

Target specific if done correctly.

Allows for commercial harvesting if animals are retrievable and near a meat processing facility.

Can use professional or volunteer shooters.

Can be used in a range of terrains and scenarios.

Sometimes gundogs or indicating dogs are used to help a professional shooter locate deer.

Difficult in thick vegetation.

Restrictions in closely settled areas.

Labour and skill speciality.

Cost can be variable depending on access and deer densities and other factors.

Yes, but not all areas

Shooting - aerial

Effective over large areas.

Effective for integrated pest control.

Requires specialist operators and aircraft.

The perception that it is costly.

Less likely to be used in closely settled areas.

Yes, but not all areas

Fencing and guards

Minimal impact on non-target species.

Effective in peri-urban areas.

Guard forms effective for single trees.

Can work for other species at the same time.

Costly.

Requires maintenance.

Can have an impact on non-target animals.

Shifts the problem.

Yes

Hound hunting / Dogging – using hound dogs to trail deer and chase them to a point where they are usually shot

This can result in control of high numbers of deer in some areas.

Can be applied to areas of dense vegetation.

Can displace deer rather than capture them.

Animal welfare concerns.

Deer could run onto roadways and cause safety issues.

Has firearm restrictions in peri-urban areas.

Yes, parts

Traps, single or coral

Target specific if done correctly.

Can be done in closely settled areas if done correctly.

Allows commercial use.

Allows release of non-target animals.

Animal welfare implications.

Time-consuming.

Costly purchase and construction.

Can result in limited numbers being captured.

Yes

Proposed

Bows

Target specific

Labour and skill intensive.

Not suitable for large numbers.

Animal welfare implications if best practice not adhered to.

Perception of cruelty in public eyes.

Yes
Protecting Aboriginal cultural heritage
Areas of cultural heritage sensitivity are only defined for specifying when a cultural heritage management plan (management plan) must be prepared under the Aboriginal Heritage Act 2006.
Some land use and development activities are more likely to harm Aboriginal cultural heritage when carried out in an area of cultural heritage sensitivity. These activities are defined as 'high impact activities in the Aboriginal Heritage Regulations 2018.
If a high impact activity is proposed in an area of cultural heritage sensitivity, a management plan must be prepared before any activity.
If a management plan is needed, an assessment must be carried out of the whole activity and not just the part of the activity that will occur in an area of cultural heritage sensitivity.
How do I know where there are areas of cultural heritage sensitivity?
The defined areas of cultural heritage sensitivity are shown on Aboriginal Victoria's online mapping tool. Aboriginal Victoria maps these areas as accurately as possible, but this mapping is indicative only.
A heritage adviser can help determine whether the land is in an area of cultural heritage sensitivity and should be engaged to find out the true geographic extent as defined in the Aboriginal Heritage Regulations 2018.
The Aboriginal Cultural Heritage Guide for Landcare and environmental volunteering groups and networks (Jan 2020) steps out the process for meeting the requirements of the Aboriginal Heritage Act 2006 and helps groups and networks determine whether a Cultural Heritage Permit is needed. The guide also provides the key Aboriginal cultural heritage contacts, including for the 11 Registered Aboriginal Parties (RAPs) in Victoria.
Useful links
The PestSmart website provides best practice information on how to plan, manage and deliver ground shooting of deer and improve pest animal control programs in Australia.
Victoria Police issue Public Place Permits to authorise individuals to use or carry a firearm in public places in specific circumstances.
Page last updated: 24/02/23