What is NaturePrint?
NaturePrint products and tools are designed to help make effective investment and management decisions to deliver Protecting Victoria's Environment – Biodiversity 2037 (the Biodiversity Plan). Victoria has a diverse and unique range of plants, animals and ecosystems that we value and need to protect for future generations. Determining what is needed to protect biodiversity is complex, with large amounts of information and multiple needs to consider at the same time.
NaturePrint decision-support products and tools provide a view across multiple threats and species. They help inform choices such as where to protect habitat, or what are the most beneficial actions for threatened species. NaturePrint provides government, agencies and other users with science-based guidance for decision making to benefit biodiversity, which has flow-on benefits for the community. The products and tools are evidence-based, the inputs are transparent and new ideas and data can be included as required.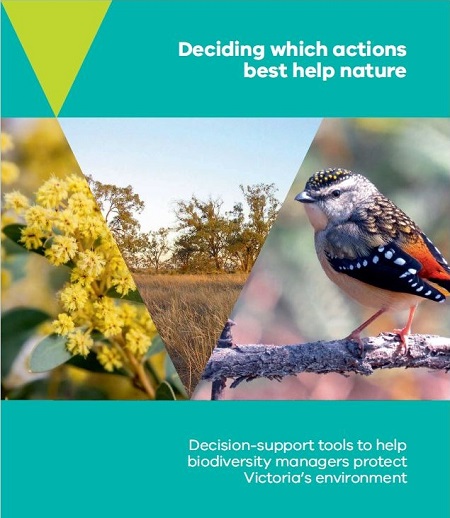 Strategic Management Prospects (SMP)
NaturePrint's Strategic Management Prospects tool is designed to help biodiversity managers consider and compare which actions to do where. To deliver the Biodiversity Plan's goals and targets and to try to prevent more species from becoming threatened, we need our management efforts to achieve the most benefits for the most species. To achieve the most positive change for biodiversity, it is important to choose activities based on the greatest benefit to the most species at the least cost.
For an overview of the Strategic Management Prospects tool and how its products can be used, see this story map:
Strategic Management Prospects Overview Story Map
Using NaturePrint products and tools
NaturePrint products and tools, including Strategic Management Prospects Version 2.0, can be accessed on NatureKit, DELWP's biodiversity web mapping and reporting tool.
SMP is focused on landscape-scale threats and management options. There are situations where more narrowly focused options need consideration. These can be analysed separately, using an equivalent cost-benefit approach, and compared to other results at a location, or between locations, to understand the merit of investing in these alternative actions. For further information about this approach (termed 'Specific Needs') look at this story map: Strategic Management Prospects Specific Needs Story Map.
A number of Specific Needs assessments have been conducted, including for Biodiversity Response Planning projects and Icon Species projects. Additional Specific Needs assessments will be done progressively, focusing on a combination of species, actions and locations where there are current gaps in coverage.
Combining science and local knowledge
Local and regional information on feasibility, capability and capacity, and costs is essential for fine tuning project prioritisation and decision-making. For example, whether weeds will be managed by a contractor or treated by a local friends group will have a significant impact on the actual project costs. SMP is based on extrapolation from available data, and this has limits at the local scale. Local groups can add their information to the values, vulnerability to threats, and benefits of management action information to determine the return on investment of different projects or activities. This allows everyone to better compare project options and share information with partners.
Types of questions that NaturePrint products and tools can help to answer
Continuous improvement and how to contribute
We are committed to a continuous improvement approach, which enables the NaturePrint products and tools to be updated and refined as further data, computational power, research and modelling methods become available. NaturePrint products have a version number to help identify the currency of each product.
Everyone can contribute to the improvement of the NaturePrint tools. For example, by submitting species records to the Victorian Biodiversity Atlas which is a key source of information for NaturePrint - visit the Victorian Biodiversity Atlas web page for more information. Activity data meeting DELWP data standards also contribute to NaturePrint tools - visit the Activity Data web page for more information.
If you would like to provide feedback, please complete the NaturePrint survey.
Page last updated: 17/09/21