The Victorian Government is creating a new conservation area in the Yarra Valley and southern Dandenong Ranges by using existing public land. This new conservation area is known as the Liwik Barring Landscape Conservation Area.
The conservation area will provide improved water quality and habitat for critically endangered species and open new areas up for recreation.
Stay up to date by subscribing to the Liwik Barring E-Newsletter
New name for the conservation area
Feedback received from the community in recent years has suggested that the name Yellingbo Conservation Area is confusing and does not reflect the true extent of the conservation area. In response to this feedback, DEECA consulted with Traditional Owners, the Wurundjeri Woi Wurrung Cultural Heritage Aboriginal Corporation, to find a new name for the conservation area. The name chosen was 'Liwik Barring', meaning 'Ancestors Trail'. The conservation area's name is officially Liwik Barring Landscape Conservation Area.
This isn't your typical conservation area
This is Victoria's first landscape conservation area. Unlike most conservation areas, which consist of one large block of land, the new conservation area will be made up of a network of narrow streamside reserves which link up with a number of existing larger public reserves.
Linking these existing reserves through streams and rivers, will allow for greater movement of birds and mammals, and improved land management. It will also allow for the opening up of some areas for low-impact recreation activities, such as hiking, fishing and bird-watching.
Illustrative map of the conservation area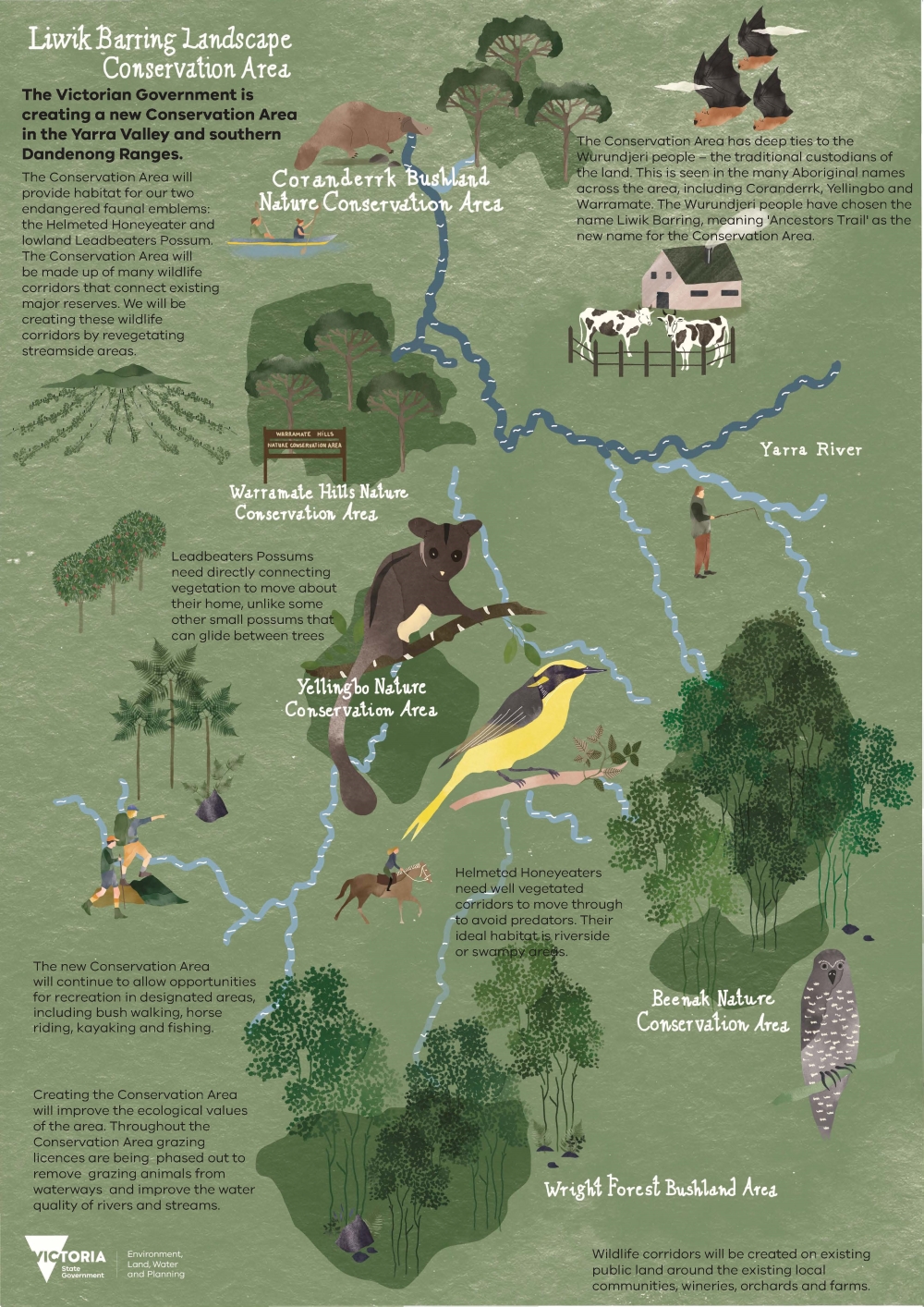 Protecting our faunal emblems
The conservation area is home to several threatened species of flora and fauna. With the implementation of the conservation area, restoration of habitat will be a key objective to improve outcomes for biodiversity.
The conservation area is well known for containing the last remaining wild population of the critically endangered Helmeted Honeyeater which was chosen as Victoria's bird emblem in 1971. The area also supports the only lowland population of the critically endangered Leadbeater's Possum, which is Victoria's faunal emblem. The conservation area will contribute to the recovery of these two critically endangered species by creating links of habitat (streams and creeks) between large blocks of public land to enable species to move throughout the landscape.
Two endangered Ecological Vegetation Classes (EVCs) are sited on public land in the Conservation Area: Cool Temperate Rainforest and Swampy Riparian Complex. The Yellingbo Nature Conservation Area supports the extremely rare and threatened Sedge-rich Eucalyptus camphora Swamp vegetation community.

Riparian management licences
To protect waterways and streamside land, stock will no longer have direct access to waterways. To achieve this, grazing licences are being phased out. Adjacent landowners who previously held a grazing licence will have the option of transferring to a riparian management licence, with the primary purpose being conservation.
Livestock must be contained within the livestock owner's property and be excluded from the Crown land and waterway. A stock exclusion fence is the most effective way to achieve this. The cost of installing a fence is the landowner's responsibility. Financial support for fencing, weed management and revegetation, is available for eligible adjacent landholders through Melbourne Water's Liveable Communities, Liveable Waterways Program.
More information can be found on DEECA's water frontage licensing or by contacting the DEECA project team to discuss applying for a riparian management licence.
Community Reference Group
The conservation area will continue to be shaped through active community involvement. The Liwik Barring Landscape Conservation Area Community Reference Group (CRG) was established in December 2019 to advise and assist DELWP and Parks Victoria with effective community engagement during the establishment of the conservation area.
The CRG's main purpose is to provide the community's views to enable DEECA and Parks Victoria to collaborate, at a strategic level, with the community regarding the implementation of the conservation area. The CRG provides strategic advice regarding community engagement to DEECA and Parks Victoria.
The CRG comprises 11 members appointed on the basis of their high-level skills and experience in areas including conservation, agriculture and horticulture, recreation, tourism, Aboriginal cultural values and fire risk management and control. The CRG holds quarterly meetings, chaired by Mr Clive Larkman.
If you would like to contact the CRG, Clive can be emailed via clive@larkmannurseries.com.au.
E-Newsletter
Stay up to date on what's been happening within the conservation area by signing up for the Liwik Barring LCA E-Newsletter.
E-Newsletter library
FAQs
Useful links
Contact us
Have a question or would like to learn more about the project? We would love to hear from you! Send through an email enquiry or give us a call.
Phone: 136 186
Page last updated: 15/06/23