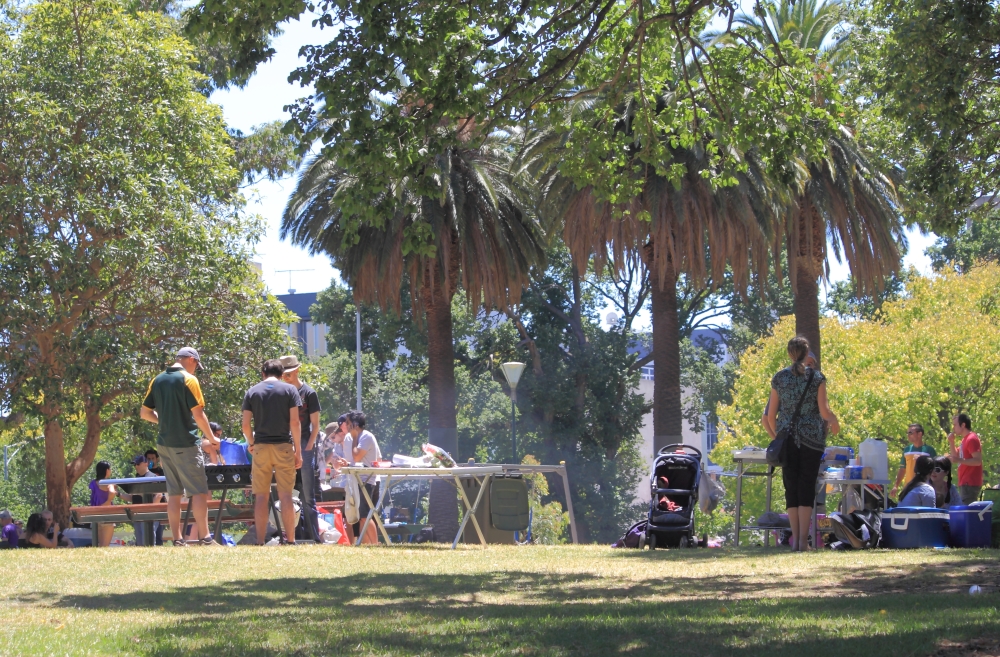 Tips to make your outdoor eating experience sustainable and COVIDSafe
A long weekend at the height of summer is a great reason to get into the great outdoors for fun, family, friends, and a picnic or barbecue feast.
1. Stay COVIDSafe
It's not a sustainability tip, but it's vital – always use hand sanitiser and carry a face mask just in case you need to go into a public building or get caught in a crowd unexpectedly so you can stay COVIDSafe.
If you're barbecuing, thoroughly clean any outdoor cooking surface before and after you cook.
A picnic blanket is a great way to measure the 1.5 metre physical distance you need to maintain between you and people who aren't from your own home. Handy!
2. Have a plan
Many outdoor areas are likely to be busy over the long weekend.
Plan your trip before you go, and have a back-up plan if your destination is crowded.
Lucky for us, Victoria has a wealth of parks where we can eat and stay active – and that's without counting the many parks and reserves listed on your council website.
Do your research, and book ahead if you need to.
3. Stay close to home
Travelling long distances to get to your picnic or barbie isn't all that environmentally friendly.
You can enjoy all the fun of a home-packed feast or some smoky snags or veggie burgers in your back yard, but given the time we all spent at home in 2020, a change of scene might be a little more appealing.
So, plan an outdoor food fest that's not too far from home, if you can, and think about the most efficient way to get there. Is walking, cycling or public transport an option?
If you have to drive, plan it so that you use the fewest number of vehicles possible to get there.
4. What's on the menu?
Thanks to the plethora of TV cooking shows these days, we all fancy ourselves as home gourmets, but a bit of kitchen swagger doesn't mean we aren't responsible for eating sustainably.
Shop locally, and buy foods or ingredients that don't come with unwanted baggage from all the food miles they have travelled or all the processing required to make them.
Green shouldn't be restricted to your salad. Sustainability Victoria has some great tips on buying sustainable food.
Before you go shopping, check what you already have in the fridge and pantry and make a list.
Remember to take your reusable bags to the shops now that single-use lightweight plastic shopping bags are banned in Victoria.
5. Cut out the waste
The average Victorian household throws away an astounding $2,200 worth of food each year. The 250,000 tonnes of food that Victorians waste annually is enough to fill the Eureka Tower!
To avoid over-catering, plan what you need and who, if anyone other than you, is bringing what.
Learn more about eliminating food waste here.
6. Avoid disposable cutlery, cups and plates
Because of their shape, even disposable dinnerware made from recyclable materials can't yet be recycled in Australia.
Take the metal cutlery that's already in your kitchen drawer. Take reusable plates, bowls and cups.
Plastic cups and plates that you can use time and again are cheap, easy to find and more sustainable than throwaway paper or plastic dishes.
7. Keep it cool and insect-free
If you have perishable foods, keep them on ice as long as you can.
The Better Health Channel has loads of information on safe summer food handling.
When the spread is laid out, keep it covered with tea towels or a table cloth to keep flies and other creepy crawlies away – a much greener option than polythene cling wrap. And consider natural alternatives such as citronella to repel insects instead of relying on pesticides in spray cans.
8. Clean up after yourself
Remember, many state and national parks and state forests don't have bins for waste or recycling. Be prepared to gather up your waste and take it home with you.
Don't leave food scraps around. Take them home. The adage that the birds might eat those leftovers ignores that human food can affect native animals' health and wellbeing and disturb the natural balance.
Your scraps could also feed unwanted pests and vermin.
Besides, while you're having a hit of park cricket, there's nothing worse than falling into someone's old sangers when you're diving for a classic catch.
9. Be careful how you store the leftovers
If you're picnicking or barbecuing away from home, think about how you're going to store the leftovers safely, so they're still fresh enough to eat later.
Sharing leftovers with your friends and family before they head home will also reduce food waste.
If in doubt, do the right thing and follow our final tip.
10. Compost what you can't eat
Even if you eat all the barbie or picnic leftovers, there will still be some unavoidable food waste like egg shells and banana peels.
You can set up your compost heap or bin at home to turn these unavoidable scraps into food for your garden.
If that's not your thing, some local councils take compostable food in their green waste collections. Check with your council first.