The Victorian Junior Landcare and Biodiversity Grants provide support of up to $5,000 to Victorian Schools, kindergartens, childcare centres, Scouts/Guides and youth groups.
Funding is provided for projects that engage young Victorians in outdoor, hands-on, on-ground projects, and environmental learning activities.
These projects provide both environmental and educational outcomes, as well as health and social benefits.
Funded projects will allow Victorian young people to:

Connect with and value their local natural environment
Increase their awareness of the importance of a healthy environment and what it means to their own health and wellbeing
Learn more about how they can contribute to improving the health of Victoria's environment
Care for Victoria's natural environment by taking part in projects that restore, protect or enhance habitat for native plants and animals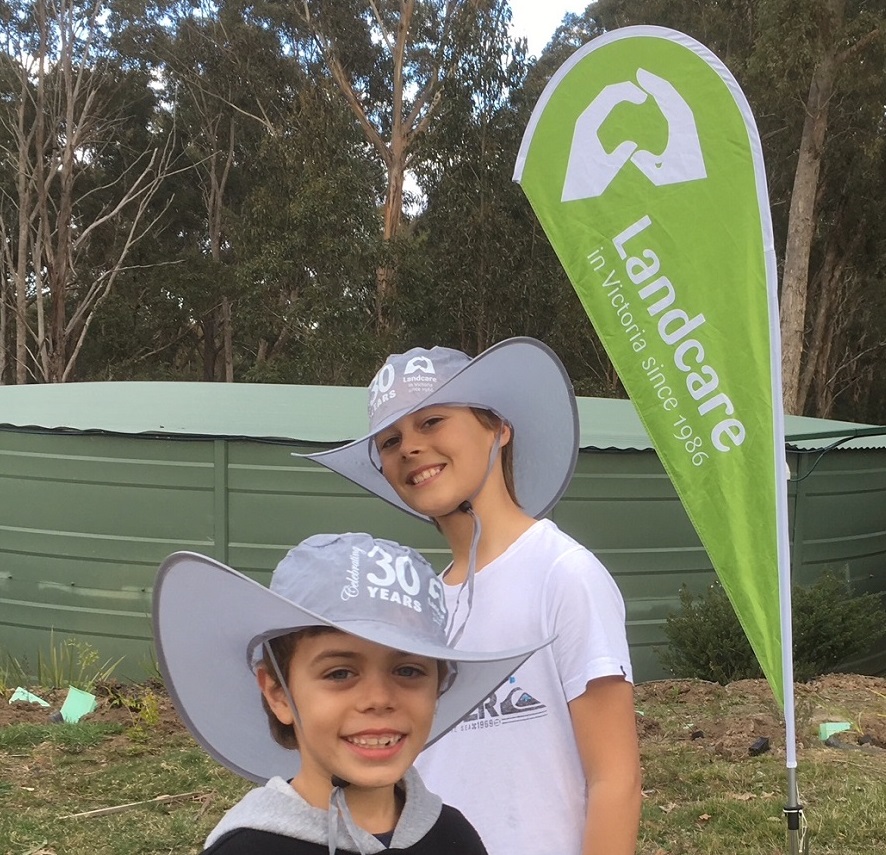 These grants support the delivery of Biodiversity 2037, Victoria's plan to stop the decline of our native plants and animals.
The grants are being run by Landcare Australia, as part of its Junior Landcare program, in partnership with the Victorian Department of Environment, Land Water & Planning (DELWP).
Successful grant recipients were announced on 3 September 2018.
The Victorian Junior Landcare and Biodiversity Grants will fund 109 applications, totalling $413,115.
Successful applicants are listed in the table below:
VICTORIAN JUNIOR LANDCARE AND BIODIVERSITY GRANTS - SUCCESSFUL RECIPIENTS
RECIPIENT
PROJECT TITLE
SUBURB
FUNDING
1st Mansfield Scouts
1st Mansfield Scouts
Mansfield
$4,767
1st Upwey Scout Group
Birdsland Reserve ecosystem strengthening
Upwey
$4,995
Airly Primary School
School Ground plantings and Ecosystems excursions to Hearts Morass and Loch Sport
Airly
$2,228
Alice Miller School
Monitoring fauna species and linking bush land on the Alice Miller School property
Macedon
$4,600
Anglesea Kindergarten
Anglesea Kinder digs in: regeneration and biodiversity protection of Bush Kinder sites - past, present and future
Anglesea
$3,421
Antonio Park Primary School
Restoration of Nature's Classroom
Mitcham
$5,000
Bacchus Marsh Primary School
Grade 1-Insect Habitat Project and Grade 4-Bush Tucker and Fibre Garden
Bacchus Marsh
$5,000
Bairnsdale Scout Group
Joey Scout Gippsland Lakes Tour and Nest Box placement
Bairnsdale
$2,566
Ballan Childcare
Ballan Community Childcare Bush food Garden
Ballan
$3,830
Baranduda Scout Group
'Linking up our patch'
Baranduda
$755
Berwick Lodge Primary School
Sensory Garden - Stage 3
Berwick
$5,000
Bethanga Primary School
Improving habitat at Bethanga Recreation Reserve
Bethanga
$2,893
Boisdale Consolidated School
Connecting with Newry Creek
Boisdale
$5,000
Buckets Early Learning Centre - McKinnon
Biodiversity in Action at Buckets
Bentleigh
$1,898
Buxton Primary School
Revegetation and development of indigenous language signs for plants and animals in the Buxton Primary School Land for Wildlife area.
Buxton
$5,000
Cardross Primary
Restoration for Education: understanding semi-arid woodland communities
Cardross
$2,862
Chatham Primary School
Chatham school ground biodiversity: a key to healthy bees
Surrey Hills
$4,761
Chelsea Heights Primary School
Plants to Animals
Chelsea Heights
$4,840
Chewton Primary School
Gorse Busters
Chewton
$1,100
Cire Family and Children's Services
Planting the Early Seeds for Biocultural Awareness and Action
Yarra Junction
$4,345
Cire Family and Community Services
Planting the Early Seeds for Biocultural Awareness and Action
Mount Evelyn
$3,806
Clarendon Children's Centre
Recreating a natural habitat for insects and animals
South Melbourne
$2,200
Colac Primary School
Indigenous garden-to be named in consultation with all members of our community-students, teachers, indigenous groups, parents, etc
Colac
$4,985
Collingwood English Language School
Indigenous Garden
Broadmeadows
$3,507
Dandenong Ranges Steiner School
School Bushland Rehabilitation and Botanical Discovery
Emerald
$5,000
Deans Marsh Primary School
Connecting with Water Bugs and Native Birds at Deans Marsh Primary School
Deans Marsh
$1,380
Dimboola and Pimpinio Primary School
Dimboola Indigenous Community Garden
Dimboola
$4,932
Doxa School Bendigo
Doxa School Bendigo and Mali Dunes, Yanac - Outdoor Learning at its Best!
Bendigo
$3,840
ECG Pakenham
Outdoor Education Program
Pakenham
$4,750
Elsternwick Primary School
Elsternwick Primary School Habitat Garden
Brighton
$3,585
Eltham Woods Preschool
Healesville Sanctuary Excursion
Eltham
$2,112
Emerald Primary School
Indigenous Bush Garden
Emerald
$5,000
Eppalock Primary School
Who lives here - Citizen Science in the Eppalock community
Axe Creek
$4,700
Essendon Primary School
Bush tucker garden
Essendon
$5,000
Felltimber Children's Centre
Felltimber Children's Centre - Bush Kinder Program
Wodonga
$4,950
Ferny Creek Primary School
Ferny Creek Biodiversity Enhancement & Nature Trail
Ferny Creek
$4,580
Fish Creek and District Primary School
Native flora and fauna habitat creation at Buckley Park Community Garden
Fish Creek
$4,675
Footscray Primary School
Plains Project
Footscray
$795
Freshwater Creek Steiner School Incorporated Association
Wetlands Development - Project
Freshwater Creek
$3,256
Friendship Square Childcare Co-op
Citizens of Tomorrow
Cheltenham
$3,650
Gilson College
Year 9 Service Camp
Taylors Hill
$3,710
Goodwin Estate Preschool
Enhancing habitats to support local microbat populations in an urban environment
The Basin
$1,130
Gumnuts Early Learning Centre
Biodiversity in Early Childhood Learning Environments
Sale
$4,110
Hawkesdale P12 College
Volcanic Plains Flora regeneration after bushfires and Bandicoot Recovery
Hawkesdale
$1,100
Hurstbridge Primary School
Enhancing the riparian habitat zone of the Diamond Creek bordering Hurstbridge Primary School
Hurstbridge
$5,000
J.S. Grey Kindergarten
Creating an Indigenous Garden
Preston West
$1,135
Jack and Jill Kindergarten
'Bugs Around Us' Kinder Programme
Beaumaris
$1,249
James Cook Primary School
Good to Grow
Endeavour Hills
$4,500
Kevin Heinze Grow Incorporated
Planting of indigenous and/or native edible flora
Doncaster
$2,125
Killara Primary School
Biodiversity Education Using Virtual and Augmented Reality
Sunbury
$2,660
Kinglake Primary
Preserving endangered species in Yackatoon
Kinglake
$1,100
Kingswood Primary School
Kingswood Primary School's Partnership with Braeside Park
Dingley Village
$4,222
Koorlong Primary School
Koorlong State Forest Habitat Enhancement & Education
Koorlong
$3,725
Koroit and District Primary School
Improving biodiversity at Koroit and District Primary School
Koroit
$4,955
Kunyung Primary School (KPS)
Understorey Restoration and New Outdoor Learning Area at Kunyung Primary School
Mt. Eliza
$4,045
Lancefield Primary School
Lancefield Primary School's Frog Bog Project
Lancefield
$5,000
Lang Lang Primary School / Westernport Swamp Landcare Group
Lang Lang Primary School Wetland Nature Reserve Development
LANG LANG
$4,360
Lismore Primary School
Amazing insects - their essential role in our natural ecosystem
Lismore
$970
Melton South Primary School
Recreating the Children's Eternal Wildlife Grasslands.
Melton South
$4,998
Melton Wildflower Girl Guides
Melton Wildflower Girl Guides help grow the Melton Botanic Garden
Melton
$4,800
Mitta Mitta Primary School
Connecting to Nature through, doing, seeing and experiencing
Mitta Mitta
$4,991
Moolap PrimarySchool
Fascinating Frogs
Moolap
$2,390
Mount Clear Primary School
Sensory Garden
Canadian
$3,900
Mount Evelyn Christian School - Ranges TEC
Environmental revegetation and awareness
Lilydale
$4,300
Mount Martha Primary School
Sensory Garden Rebuild and Reinvigoration Project
Mount Martha
$2,470
Murrayville Community College
Creating an environment to Capture Young Minds
Murrayville
$5,000
Murtoa College
Improving school biodiversity
Murtoa
$4,990
Neami National - Hawthorn Youth Residential Rehabilitation Service (YRRS)
Native Sensory Garden
Hawthorn
$1,753
Newham Primary School
Frog Feature
Newham
$4,555
Newlands Primary School
Making the links with Newlands Biodiversity
Preston West
$4,455
Nichols Point Primary School
Biodiversity in our backyard
Nichols Point
$2,822
Noorat Primary School
Interactive biodiversity and nature connection trail.
Noorat
$2,332
Northcote High School
Merri Creek Recovery
Northcote
$5,000
Northside Christian College
Biodiversity at Northside
Bundoora
$5,000
Our Lady Star of the Sea Primary School
Indigenous Outdoor Classroom & Garden Restoration Project
Ocean Grove
$4,621
Outdoor School - 15 Mile Creek
Habitat and revegitation project
Greta South
$890
Pakenham Heights Kindergarten
Kinder Kids Learn and Plant
Pakenham
$1,906
Patterson River Secondary College
Re-habitat Eel Race Creek
Seaford
$900
Peninsula Specialist College
Connecting with Nature Through Habitat Restoration and Rehabilitation.
Dromana
$5,000
Port Fairy Consolidated School
Celebrating coastal biodiversity communities
Port Fairy
$3,800
Pyramid Hill Pre-school
Pyramid Hill Pre-school
Pyramid Hill
$1,933
Rainbow P-12 College
Owls, Cows and Boughs
Rainbow
$4,200
Rowville Primary School
School Frog Bog and Local Revegetation Project
Rowville
$4,950
Rye Primary School
Rye Primary Bush Tucker and Outdoor Learning Space Project
Rye
$4,000
St Brigid's Primary School
St Brigids Restoring Biodiversity
Officer
$5,000
St Francis Primary School
Indigenous Garden
Nathalia
$2,000
St Joseph's Catholic Primary School
Connecting to nature through mind, body and soul
Crib Point
$5,000
St Martin de Porres Avondale Heights
Reflection gardens
Avondale Heights
$5,000
St Pauls Anglican Grammar School
St Paul's Students and Community Restoration of Endangered Plains Grassy Woodland
Traralgon
$4,900
Stanley Street Preschool
Stanley Street Bush Kinder Program
Wodonga
$4,950
Stawell Primary School
Citizen Scientists at Stawell Primary School
Stawell
$5,000
Swan Hill College - Flexible Learning Option Campus
Make FLO sustainably beautiful!
Swan Hill
$5,000
Swifts Creek P-12 School
Care for the Tambo
Swifts Creek
$5,000
Tallangatta Kindergarten
Why do we need native plants in our garden at Tallangatta Kindergarten?
Tallangatta
$4,970
Thornbury Primary School
Woiwurrung Food Garden
Thornbury
$5,000
Timboon P12 School
Enviro. Warriors and Kids in the Garden programs
Timboon
$4,750
TRY Whittlesea Children's Centre
Habitat for play
Whittlesea
$5,000
Turner Street Kindergarten
Bush Tucker Gardens
Pascoe Vale South
$1,786
Tyrrell College
Busy Bees
Sea Lake
$3,240
Vermont Kindergarten
Excursion to Healesville Sanctuary
Vermont
$2,980
Warranwood Primary School
Bajerrang Forest and Bush Tucker Project
Warranwood
$5,000
Wattle Hill Kindergarten
Backyard Biodiversity
Burwood
$4,037
Wheelers Hill Primary School
Reptile and Bird Attracting Garden
Wheelers Hill
$5,000
Winters Flat Primary School
Eltham Copper Butterfly habitat native rejuvenation of school frontage
Castlemaine
$4,042
Wodonga Federation Government Schools
Leneva Project
Wodonga
$5,000
Woodend Primary School
Woodend Community Children's Garden
Woodend
$4,720
Woodford Primary School
Nature in our Neighborhood
Woodford
$4,000
Woodside Primary School
Historic and current erosion control of the Bruthen Creek film
Woodside
$4,200
Wyndham Central College
Environmental Student Engagement
Werribee
$4,925
Page last updated: 26/10/18